Champion Changemakers – Méan Fomhair 2022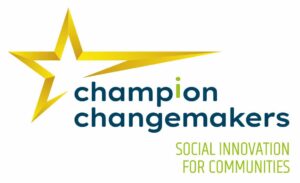 An bhfuil smaoineamh agatsa a cheapann tú go gcabhródh sé chun dul i ngleic le dúshláin shóisialta nó timpeallachta i do phobal áitiúil? B'fhéidir go bhfuil smaoineamh maith agat a d'fhéafadh fadhb shóisialta ar nós Cur Amú Bia, Mearfhaisean, Athrú Aeráide, Oideachas, Tithíocht nó Sláinte Intinne a réiteach – ach nach bhfuil tú cinnte cad é an chéad chéim eile?
Do you have an idea that you think would help combat social or environmental challenges in your local community? Maybe you've had a brainwave that could really solve a social problem such as Food Waste, Fast Fashion, Climate Change, Education, Housing or Mental Health – but you're unsure what to do next?
If so, the Community Enterprise Association Ireland (CEAI), through its network of enterprise centres and hubs, is hosting a series of regional events that will help you or your group build this idea into a service that could drive real change in your community!
Más ea, tá Cumann Fiontair Phobail Éireann, trína gréasán d'ionaid agus moil fiontair, ag eagrú sraith d'imeachtaí réigiúnda a chabhróidh leatsa, nó led' ghrúpa, tógáil ar an smaoineamh seo chun seirbhís a chur ar fáil a d'fhéadfadh claochló suntasach a thiomáint id' phobal.
Níos mó anseo / More background here
Kerry event
The Kerry event is taking place in both Dingle and Killorglin.
*Invitation only Events – Register through links above*
Location: Dingle Hub and RDI Hub
*The itinerary for Dingle Event  is still being finalised*
September 23rd

6:30 pm Kick Off
Team get acquainted
Online forum with other centres
Talks from mentors
September 24th
9:30am Kick Off
Hub Team steer
Workshop 1
Workshop 2Q&A.
Approx Finish at 16:30
September 25th 9:30am  Review
Perfecting the pitch
Afternoon:
Groups pitch to National judging panel
Event Ends
Regional Finalists from each region and those shortlisted will go on to participate in the national event on October 20th 2022.The overall winning team will benefit from a bursary of key supports and services that any start-up would welcome!