Ag Neartú Nuálaíochta ar fud Chorca Dhuibhne
Propelling Innovation Across the Dingle Peninsula
Dingle Hub brings together innovative and forward-thinking people who want to:
Build creative and inclusive communities across the Dingle Peninsula
Help facilitate the creation of well-paid, year-round incomes
Ensure our beautiful peninsula remains liveable and sustainable
We're always looking for new voices and new ideas. Please feel free to connect with us.
Tugann Mol Chorca Dhuibhne daoine nuálaíocha agus ceannródaíocha le chéile go bhfuil fonn orthu:
Pobail chruthaitheacha agus ionchuimsitheacha a thógáil ar fud Chorca Dhuibhne
Cabhrú chun ioncaim ar phá maith a bhíonn ann ó cheann ceann na bliana a chruthú
Cinntiú go bhfanann ár leithinis álainn inmharthana agus ina háit gurbh fhéidir le gnáthdhaoine maireachtaint inti
Bímid i gcónaí ag lorg guthanna agus smaointí nua. Tá fáilte romhat teagmháil a dhéanamh linn.
To implement our vision for a dynamic rural community, we manage projects in three key areas: sustainability, digital transformation and creative industries.
Chun ár bhfís de phobal bríomhar tuaithe a chur i bhfeidhm, bímid ag déanamh bainistíocht ar thionscadail bainteach le trí phríomhréimse: inmharthanacht, claochlú digiteach agus tionscail chruthaitheacha.
Tionscail Chruthaitheacha
We're not only a hub for local projects, we're a literal hub: a place where people can meet and work, get access to high-speed broadband and use a host of audio and video technology. We also provide services to start-ups and budding entrepreneurs; with facilities, workshops and networking advice.
Ní mol do thionscadail áitiúla amháin sinn, is mol sinn sa chiall litriúil: áit gur féidir le daoine casadh ar a chéile agus bheith ag obair le chéile, teacht ar leathanbhanda ardluais, agus úsáid a bhaint as réimse leathan teicneolaíocht fuaime agus físeáin. Anuas ar sin, cuirimid seirbhísí ar fáil do ghnólachtaí nuathionscanta agus fiontraithe úra; le háiseanna, ceardlanna agus comhairle faoi ghréasánú.
Latest News | An Nuacht is Déanaí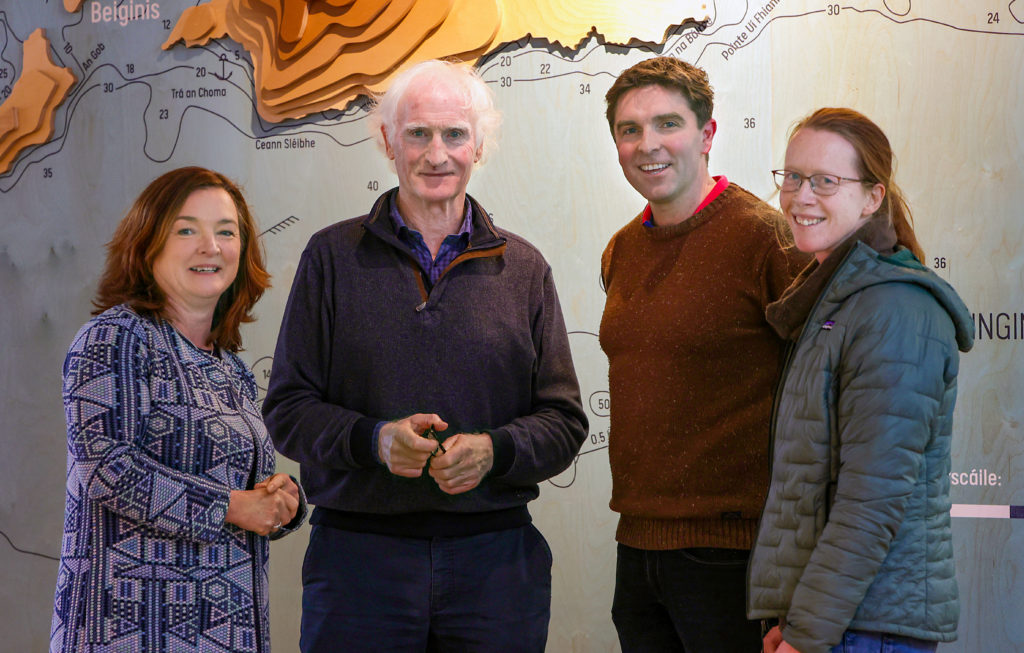 Corca Dhuibhne Tourism and Hospitality launched a new Tourism and Hospitality sector Sustainable Environmental Community (SEC) at Ionad an Bhlascaoid on Thursday 9th March 2023.