The many digital technologies available now make it possible for rural communities to be as connected as anywhere else. We're using digital technology at Dingle Hub to improve our local environment and give our youngest residents key skills for the future.
Our environmental projects include:
Water Quality Monitoring
Marine Biology Researchers from Sacred Heart University (SHU) and IoT Network Developers from Net Feasa collaborated on a project to place Internet of Things (IoT) sensor nodes in major bodies of water across the peninsula:
Milltown River 
Dingle Harbour
Ventry Harbour
Tralee Bay (inner & outer)
 Owenmore River
Castlemaine Harbour
We collected data on water quality, water levels, temperature, conductivity, dissolved oxygen, PH and nitrates from 2018-2020.
This data  helped us understand how natural events and human interventions affect water quality, and how that quality can be maintained and improved.
The project was funded by the FLAG  programme (fisheries local action groups) from the European Maritime and Fisheries Fund Operational Programme 2014 – 2020, co-funded by the European Union and Irish Government.
Ploutos Project
Dingle Hub is running one of 11 sustainable innovation pilots across Europe for the Ploutos project. This initiative builds on and further develops the work carried out in the Farm Ambassador Pilot Programme.
The Ploutos Project aims to improve the sustainability of farming by introducing technology-based decision-making. We've installed sensor technology on 36 farms across the peninsula, which will measure:
Weather conditions
Grass growth
Soil moisture and temperature
Milk tank height
Slurry tank height
The data from the sensors will provide scientific evidence of emissions savings and will add value to a range of products and services by:
using good environmental parameters to market goods from the area;
using localised, real-time weather data to tailor tourist packages optimised for changing weather conditions;
building a brand for the Dingle Peninsula to secure the region as a destination of choice, supported by data proving low food miles and low carbon footprint. 
We've also developed a mobile phone app that will translate the sensor output into clear data to help farmers make decisions.
Additional project objectives:
Encourage new collaborations and enterprises across the value chain between farmers, technology designers, data analysts, food/service entrepreneurs and consumers;
Reduce carbon footprint on farms. For every 10-day extension in the grazing season, there is a 1.7% decrease in greenhouse gas (GHG) emissions
Increase farm profitability and develop new income streams from higher value products. For every 10-day extension in the grazing season, profit ncreases by 27 euro per dairy cow
Work with 33 consortium partners through the Ploutos Innovation Academy
Read:
View:
Farm Ambassador Pilot Programme (2018-2021)
A precursor to the Ploutos initiative, the farm ambassador programme established a trial program that helped six farmers on the Dingle Peninsula use new technologies to become more efficient and better comply with environmental regulations. The partners in this project were Dingle Hub, Net Feasa, Kerry Agribusiness and Teagasc.
Net Feasa installed Internet of Things (IoT) sensors on the six ambassador farms; that measured soil moisture, milk height, slurry height, and oil/diesel height.  Each participating farm also received a local weather sensor; measuring wind speed, temperature, rainfall and air pressure.
Net Feasa stored the relevant data in the cloud, where it was available to all partners.
Teagasc and Kerry Agribusiness supported the farm ambassadors on the ground, using the data to help farmers make decisions and linking them to the Sustainable Dairy Assurance Scheme (SDAS).
Teagasc also arranged for scientific analysis of the data, which assessed the number of livestock units, soil characteristics, planned nitrogen fertiliser use, amount of slurry being spread and milk yield. The analysis led to the development of a Nutrient Management Plan (NMP) and a standard emissions baseline for each of the six farms.
Read: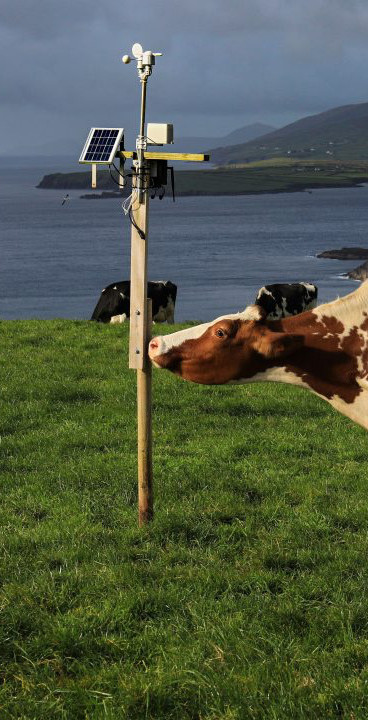 Our education projects include:
Dingle Coder Dojo
Dingle Coder Dojo is our local branch of the international program to help young people learn coding skills through fun and interesting projects. Our own "ninjas" — aged 7 to 16 — have learned basic coding, created games and programmed microbits as mini weather sensors, among many other projects.
Pre-Covid, we held weekly sessions at Dingle Hub, and after an interval online, we hope to get back to our in-person meetings.