Objectives
To oversee and facilitate the provision of a remote, real time IoT water monitoring network on the Dingle Peninsula.

To provide the infrastructure and skills transfer necessary to incubate a start-up enterprise in the Dingle Hub, using the commercial value of the outputs from the project.
Background
The requirement to have remotely accessible live data in terms of water quality and levels, and to create a platform for companies, local authority and State bodies to build predictive software to understand environmental impacts of both natural events and human interventions, is the motivation behind this project. A solution was identified through a collaboration between Marine Biology researchers (Sacred Heart University, SHU) and IoT Network Developers (Net Feasa) and a first water-monitoring sensor node was commissioned by Mol Teic and deployed on April 19, in the Milltown River, to provide proof of concept.
Project Description
The purpose of this project is to give an automated remote monitoring system which can identify changes in the following parameters:
water temperature

conductivity

dissolved oxygen

pH

nitrates

water levels
to provide a warning system and a record of environmental parameters. This project aims to expand on the initial proof of concept by deploying and integrating seven additional water sensor nodes, with IoT gateway technologies. The nodes will be deployed in:
Dingle Harbour

Ventry Harbour

Tralee Bay (inner)

Tralee Bay (outer)

Owenmore River

Castlemaine Harbour
It will develop a bespoke dashboard and a cloud based storage platform to (i) capture the data, (ii) store the data, and (iii) make the data available for enterprise and / or for the benefit of community, farmers, aquaculture businesses, local authority and State bodies. This technology, when fully built, will pave the way for advance warning systems and can be reproduced relatively inexpensively for deployment in other localities.
This project has been majority funded by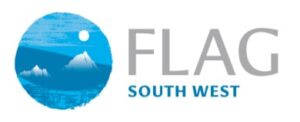 With additional support for nitrate sensors in the Milltown and Castlemaine Rivers from LAWCO Water and Communities
The Dingle Creativity and Innovation Hub are currently piloting a Farm Ambassador Programme.
The project has installed Internet of Things (IoT) sensor technology on six local farms. 
The sensors should help to increase sustainability and productivity on the farms. The six ambassadors are trialing the IoT sensors to measure and manage soil moisture, localised weather data, milk height and slurry height.
These Farm Ambassadors will be able to share their experience with this technology with the larger farming community.
This project is planned to be completed in March 2021.
Tá an Tionscadal Ambasadóir Feirme faoi lán tseoil!
Roghnaíodh seisear feirmeoirí áitiúla chun bheith páirteach ann, comhghairdeachas leo!  Tá an trealamh á inshealbhú faoi láthair agus beidh breis eolais ar fáil i mí Márta 2021.