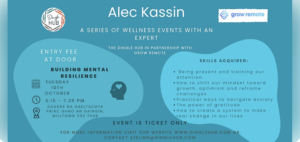 In this powerful and engaging workshop, we'll discuss the science behind why staying focused and present is so important, yet difficult, and learn how we can hack our own internal systems to be more present. We'll also learn ways to shift our mindset, build skills to navigate life's challenges, and practice the skill of seeing opportunity even during setbacks.
In the ever-evolving world, maintaining mental resilience has become a vital skill for staying balanced, motivated, and productive. Join us for a transformative workshop at the Dingle Hub that will equip you with the tools and strategies needed to navigate challenges, reduce stress, and cultivate mental strength.
Secure your spot today for this empowering workshop via Eventbrite.
Space is limited, so don't miss out on this opportunity to balance resiliency in your remote work journey.
DISCLAIMER: Photos and videos will be taken on the day and used for social media
Skills Acquired:
● Being present and training our attention
● How to shift our mindset toward growth, optimism and reframe challenges
● Practical ways to navigate anxiety
● The power of gratitude
● How to create a system to make real change in our lives
Led by experienced facilitator, coach & solo-entrepreneur Alec Kassin & sponsered by Grow Remote, this workshop can empower remote workers with the skills needed to thrive in the dynamic remote work environment. Whether you're new to remote work or a seasoned professional, you'll leave with practical knowledge and a renewed sense of mental resilience.
Speaker:
Alec Kassin is a certified breakthrough chronic pain coach and empowerment speaker. Born in California, he was diagnosed with a ruptured spinal disc while racing as a semi-pro cyclist at age 18. This brought an end to his dream of being a professional cyclist, leaving him partially bedridden and unable to attend college. However, after an intense two-year physical and psychological journey, he became pain-free, and has since immersed himself in the world of chronic pain. Through a scientifically-backed approach, he's helped his clients with back, knee, ankle, hip, neck, hand pain, migraines, chronic fatigue, and more take back their lives.
This event is open and appropriate to everyone.
Hope you enjoy!