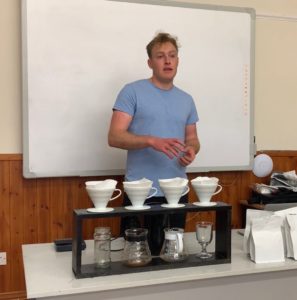 Bank Holiday Friday 28/10/22 at our office in Cooleen, Two Turtle Doves, a local coffee roaster from Dingle gave tips on perfecting your coffee at home.
Stephen was in Dingle Hub 10.30 to Midday on Friday 28th October and if you are normally stuck at home working, it was your chance to come into Dingle Hub for a nosey! You can see our setup, meet others who are working from home or are thinking about hybrid working, using one of our Hubs whenever suits them.
You'll hear how you can try out a desk for free (through www.connectedhubs.ie) and also all about Grow Remote.   www.growremote.ie a great one stop shop if you are or want to start working from home. They champion remote working as one of the essential keys to unlocking true freedom to live happily and sustainably.
Beidh caife saor in aisce againn duit an maidin seo gan dabht!
Fáilte roimh cách!