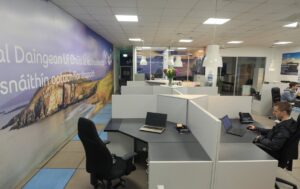 How are we doing?
To help improve how we communicate the activities of Dingle Hub, we are looking for your views in a very short survey. Check it out here or on our social media. We want as many responses as possible, even if you have never stepped into the Hub!
To thank you for participating in our short survey, you will be entered into a raffle to win one of three Hot Desk packages in Dingle Hub – worth €150 each!
Cabhraigh linn chun feabhas a chur ar ár gcumarsáid le daoine faoi imeachtaí Mhol Chorca Dhuibhne. Táimid ag lorg do thuairimí í suirbhé gairid. Is féidir an ceangal chuig an tsuirbhé a aimsiú anseo nó ar ár meáin shóisialta. Fáilte roimh gach freagra fiú muna bhfuil cos leagtha agat laistigh den Mhol!
Chun ár mbuíochas a léiriú duit as páirt a ghlacadh inár suirbhé gairid, cuirfear d'ainm isteach ar chrannchur chun ceann de thrí phacáiste Deasc Sealaíochta, arbh fhiú €150 an cheann, a bhuachaint!
Ar an Raidió
Bhí áthas ar Aodán (Bainisteoir Cumarsáide) agus ar Maggie (Bainisteoir Tionscadal Cruthaitheach) caint le Joe McGill ar Raidió Chiarraí Dé Sathairn seo caite (12ú Feabhra). Is féidir éisteacht leis an gclár 'Saturday Supplement' ar shuíomh Raidió Kerry ag www.radiokerry.ie/podcasts.
Did you hear Aodán (Communications Manager) and Maggie (Creative Industries Manager) talk about their new roles on Radio Kerry's 'Saturday Supplement' (February 12th)? We're getting great feedback on this chat with Joe McGill – Hear for yourself here.
SEAI Retrofitting Scheme
The government has announced new supports for homeowners to undertake home energy upgrades (often called retrofits) for warmer, healthier and more comfortable homes, with lower energy bills. This will help reach the 2030 target of half a million homes being upgraded to a Building Energy Rating (BER) of B2. This is a positive step towards transitioning to a low carbon society.
Some key measures include:
Increased grant levels of up to 50% of the cost of a typical deep retrofit

Free energy upgrades for those at risk of energy poverty

Enhanced grant rate, equivalent to 80% of the typical cost, for attic and cavity wall insulation

€8 billion spend between now and 2030, creating thousands of high quality jobs
All of this will be administered by the Sustainable Energy Authority of Ireland (SEAI). More info on their website www.seai.ie or Phone 01 808 2004.
Scéal Faoi Leith: Buntreoir do Fhealsúnacht
Tá áthas orainn a fhógairt go mbeidh ceardlann nua, Scéal Faoi Leith: Buntreoir do Fhealsúnacht, ag tosnú sa Hub ar an 22ú Feabhra le Kevin J. Power. Beidh an cúrsa ar siúl gach Mairt 7-9i.n. ar feadh ocht seachtaine. Chun d'áit a chur in áirithe agus i gcomhair tuilleadh eolais, déan teagmháil le Kevin ag innerchaptermusic@gmail.com.
Fuair Kevin a Chéim Dochtúra san Fhealsúnacht ó Choláiste na hOllscoile, Corcaigh. I láthair na huaire tá sé ag obair ar chlár oideachais leanúnaigh do dhaoine fásta de chuid COC ar Fhealsúnacht an Idirspleáchais. Tuilleadh eolais ag www.innerchapter.com.
Beidh an cúrsa plé-bhunaithe, idirghníomhach, le piarfhoghlaim, nascanna agus comhréim leis an ealaíon agus an litríocht.
The Great Story: An Introduction to Philosophy will run for 8 weeks on Tuesday evenings 7-9pm in the Hub, starting 22nd February, facilitated by Kevin J. Power. To book your place and for further info contact Kevin at innerchaptermusic@gmail.com.
Kevin has a PhD from UCC, currently teaching Philosophy of Interdependence for UCC Adult Continuing Education. More on Kevin here www.innerchapter.com.
The course will be discussion-based, interactive with peer learning; connection and overlap with arts and literature, reconnection with nature. More info here.
Connect

We want to network people working on the peninsula, particularly if working (or learning) from home. It's not necessary to hire our desks or offices to be part of this wider community. Connect with us on social media and drop us a line.
If you want to enquire about using our workspaces contact us on
info@dinglehub.com
or 066 9150140.