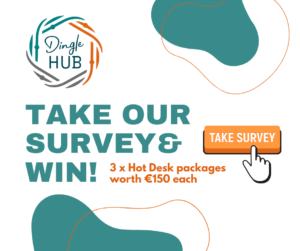 Help us get better at communicating news about Dingle Hub activities by answering a few quick questions.
To thank you for participating in our short survey, you will be entered into a raffle to win one of three Hot Desk packages, worth €150 each!
Surveys to be completed by 10th March 2022 – winners will be chosen in a random manner and will be contacted by phone before March 31st.
*********
Cabhraigh linn chun feabhas a chur ar ár gcumarsáid le daoine faoi imeachtaí Mhol Chorca Dhuibhne trí chúpla ceist tapaidh a fhreagairt.
Chun ár mbuíochas a léiriú duit as páirt a ghlacadh inár suirbhé gairid, cuirfear d'ainm isteach ar chrannchur chun ceann de thrí phacáiste Deasc Sealaíochta, arbh fhiú €150 an cheann, a bhuachaint!
Dáta deireanach d'iarratais 10 Márta 2022. Roghnófar buaiteoirí ar bhealach randamach agus
cuirfear iad ar an eolas ar an bhfón faoi 31 Márta 2022.