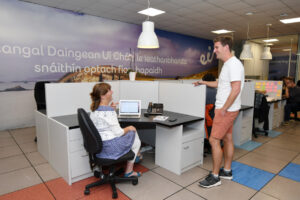 Title: Shared Workspace Manager, Corca Dhuibhne Creativity and Innovation Hub.
Contract:  12 months, full-time (with potential for extension depending on project funding)
Salary:  €40,000 – €45,000 depending on experience
Annual Leave:  24 days
The Role
We are looking for a talented, highly organised and efficient individual for the role of Shared Workspace Manager of the Corca Dhuibhne Creativity and Innovation Hub, overseeing all aspects of the workspace operations including a programme of ongoing events.
The Context
The mission of the Corca Dhuibhne Creativity and Innovation Hub (CDCIH) is to build a creative, livable, sustainable and inclusive community, fostering a vibrant and diverse ecosystem of stakeholders to facilitate the creation and maintenance of well-paid, year-round incomes on the Dingle Peninsula. We have developed an innovative model of Rural Community Innovation and Transition anchored in four strategic platforms.
Platform 1: CDCIH provides shared workspace and facilities for individuals and companies. Currently, 37 co-workers regularly use the space along with 189 intermittent users and there are plans for further expansion to accommodate demand.
Platform 2: We facilitate projects that build the antecedents for new employment under four thematic pillars: Sustainability and the Green Agenda, Digital Transformation, the Creative Industries and Community-Authored Visioning and Strategy.
Platform 3: To build on the emerging eco-system, we leverage the projects to aggregate critical base demand enabling the establishment and scaling of new local companies.
Platform 4: To promote, nurture and convene the work-from-home and learn-from home community, there are over 150 people connected into our hub community which includes film, animation, sustainable energy, digitisation, creative and business collaboration networks where members support each other and identify and pursue mutually beneficial economic opportunities.
CDCIH is looking for a talented individual to join the growing CDCIH team to manage operations and drive growth under Strategic Platform 1 and to support the further development of networks under Strategic Platform 4.
Key Responsibilities
The Shared Workspace Manager of the Corca Dhuibhne Creativity and Innovation Hub will oversee all aspects of the workspace operations including a programme of ongoing events.
Building on the work done to develop the Community Innovation and Transition Hub since its launch in 2017, this is an exciting role within a dynamic team that will focus on:
maintaining levels of service for the co-working and office spaces to the highest   standards
building and growing a solid membership for the co-working spaces
providing management services to other co-working sites on the Dingle Peninsula
having a vocal enthusiasm for the Dingle Peninsula and all it has to offer to businesses, residents and the entrepreneurial and creative communities
supporting initiatives and start-up enterprises in the areas of climate action and sustainability, the digital transformation and the creative industries
Job purpose: 
To manage and oversee all aspects of the Hub's operation including letting, memberships, finance, sales, and events.
To ensure that workspaces are fully operational and processes are running smoothly to continuously improve the member experience. Solve member related issues to ensure a cohesive community and manage member expectations.
To ensure building and member safety as it relates to fire, emergency and pandemic plans
To oversee building renovation and refurbishment works as required.
To work with the other members of the Hub team to create a collaborative and vibrant environment amongst our hub community through developing community initiatives designed to foster networks and connections between members. Initiatives could include member introductions, overseeing events, electronic and print communications, and building walkthroughs.
To maximise the Hub's revenue by implementing attentive cost control measures.
To work closely with the Communications and Marketing Manager to promote all that the Hub has to offer.
To strive to make the Corca Dhuibhne Hub a wonderful place for all and an exemplar for others
Essential Skills and Experience:  
The successful applicant will need to be:
a self-starter, efficient, focused and organised
a true host, with focus on client service and taking responsibility beyond direct client duty
a team player, able to work with many different teams
outgoing with a positive and proactive approach
passionate about, and understanding of, entrepreneurial / creative / rural communities
able to demonstrate integrity, dependability, responsibility, accountability, self-awareness, work ethic, and empathy
flexible to work across more than one business site and to work some evenings and weekends where required
The successful applicant will need to have:
a third level qualification in a relevant discipline, eg Business, Project Management, Business Administration or have experience of operational management, ideally in a co-working environment
knowledge of building management and property maintenance issues
knowledge of health and safety in a public building
knowledge of membership and/or letting agreements
experience of events management
experience of policy and procedure development
experience of monitoring, reporting and maintaining accurate financial records
a head for figures, margins, budgets, and revenue
a respect for and understanding of rural Irish culture and life
local enterprise/business development experience
experience of managing staff or volunteers
good attention to detail with an ability to see the bigger picture
excellent time and project management skills
excellent written and oral communication skills, including report writing
good computer skills – Word, Excel, Zoom, etc
a full clean driving licence
Desirable Skills and Experience
The following would be an advantage:
experience of marketing and communications, including social media
working knowledge of wired and wireless networks
experience of or personal interest in climate action and sustainability initiatives
experience of or personal interest in the creative industries
experience working at community level
Governance
The Shared Workspace Manager will be employed by Mol Teic (trading as The Corca Dhuibhne Hub) and will report to the General Manager of the Corca Dhuibhne Hub for day-to-day management and prioritising of workload.
Salary
The salary range is €40,000- €45,000 depending on experience. There will be an initial probationary period of six months.
Working Hours
This position is full-time for a period of 12 months. There is potential for this to be extended to 36 months dependent on continuing availability of funding. Annual leave entitlement is 24 days per year.
While the hub is available to clients on a 24/7 basis, managed services are only expected to be provided during core business hours 09:00 – 17:00 and an administrative assistant is available on the team to support this. The working day may vary depending on scheduled events and the need to be available on occasion to accommodate members of the hub community out of office hours. Therefore, the work may include unsocial hours, such as evenings and weekends, so flexibility is required.
Location 
The position will be based in the Corca Dhuibhne Creativity and Innovation Hub, Cuilín Business Park, Dingle, Co. Kerry, with travel required throughout the Dingle Peninsula as and when additional co-working sites are on-boarded. At least one additional site is expected to come online within the initial 12 month period of this contract. Longer term there is potential for 3-5 additional sites.
Home working may be required if further Covid restrictions are imposed.
Application Process
Please send your CV, with a cover letter outlining your interest and suitability for the job, to Deirdre de Bhailís at jobs@dinglehub.com
Closing date for applications is 5pm, Tuesday 21st September 2021
Interviews will be held during the week of 27th September 2021
Teideal: Bainisteoir Spás Oibre Comhroinnte, Mol Cruthaitheachta agus Nuálaíochta Chorca Dhuibhne.
Conradh: 12 mí, lán-aimseartha (le féidearthacht ann go sínfear tréimhse an phoist, ag brath ar mhaoiniú a bheith ar fáil chuige)
Tuarastal: €40,000 – €45,000 ag brath ar thaithí
Saoire Bhliantúil: 24 lá
An Ról
Táimid ag lorg duine tréitheach, dea-eagraithe agus éifeachtach do ról Bainisteoir Spás Oibre Comhroinnte ag Mol Cruthaitheachta agus Nuálaíochta Chorca Dhuibhne. Déanfaidh an duine seo maoirseacht ar gach gné d'oibriúcháin an spáis oibre, clár d'imeachtaí leanúnacha san áireamh.
An Comhthéacs
Misean Mhol  Cruthaitheachta agus Nuálaíochta Chorca Dhuibhne (MCNCD) ná pobal atá cruthaitheach, inbhuanaithe agus ionchuimsitheach a thógáil, ag tacú le héiceachóras éagsúil bríomhar de pháirtithe leasmhara chun éascú a dhéanamh ar chruthú agus cothabháil postanna ar phá maith a bheidh ann ó cheann ceann na bliana ar Chorca Dhuibhne. Tá forbairt déanta againn ar mhúnla nuálaíoch de Nuálaíocht agus Aistriú Pobail bunaithe ar cheithre árdán straitéiseach.
Ardán 1: Soláthraíonn MCNCD spás oibre agus áiseanna comhroinnte do dhaoine aonair agus do chomhlachtaí. Faoi láthair, bíonn 27 comh-oibrí ag baint úsáid as an spás ar bhonn rialta, móide 189 úsáideoirí eadrannacha, is tá pleananna ann chun síneadh a chur leis an láthair chun freastal ar bhreis éilimh.
Ardán 2: Déanaimid éascú ar thionscadail a thógann na háiseanna/acmhainní gur ghá a bheith ann chun go mbeidh sé indéanta fostaíocht nua a chruthú faoi cheithre phríomhthéama: Inmharthanacht agus an Clár Oibre Glas, Claochlú Digiteach, na Tionscail Chruthaitheacha, agus Fís agus Straitéis Phobalbhunaithe.
Ardán 3: Chun tógáil ar an éicea-chóras atá ag teacht chun cinn, úsáidimid na tionscadail chun tionchar a chur i bhfeidhm agus chun éileamh a chruinníu chun an íosmhéid éilimh a bhaint amach chun comhlachtaí nua áitiúla a bhunú agus a scálú.
Ardán 4: Chun an pobal obair-ó-bhaile agus foghlaim-ó-bhaile a chothú, a chur chun cinn agus a thabhairt le chéile. Tá breis agus 150 duine nasctha le pobal ár mhoil, le lucht déanta scannán, beochana, fuinnimh inathnuaite, digitithe, anuas ar líonraí comhoibríocha cruthaitheacha agus gnó mar a mbíonn baill ag tacú lena chéile chun deiseanna eacnamaíocha a thapú a rachaidh chun leasa an dá pháirtí.
Tá MCNCD ag lorg duine tréitheach le bheith ina chuid d'fhoireann MCNCD, atá ag fás i gcónaí. Déanfaidh an duine seo bainstiú ar oibriúcháin agus thiománfaidh siad fás faoi Ardán Straitéiseach 1 thuas, chomh maith le tacaíocht a thabhairt d'fhorbairt líonraí faoi Ardán Straitéiseach 4.
Príomh-fhreagrachtaí
Déanfaidh an Bainisteoir Spás Oibre Comhroinnte ag Mol Cruthaitheachta agus Nuálaíochta Chorca Dhuibhne maoirseacht ar gach gné d'oibriúcháin an spáis oibre, clár d'imeachtaí leanúnacha san áireamh.
Ag tógáil ar an obair déanta cheana féin chun an Mol Cruthaitheachta agus Nuálaíochta a fhorbairt ónar bunaíodh é sa bhliain 2017, is ról iontach spreagúil é seo mar chuid d'fhoireann fhuinniúil a bheidh dírithe isteach ar:
ag coimeád na leibhéil seirbhíse do chomh-oibriú agus spásanna oifige ag an gcaighdeán is airde.
fás agus cothú ballraíocht sheasmhach do na spásanna comh-oibre a chur chun cinn.
seirbhísí bainistíochta a sholáthar d'ionaid comh-oibrithe eile ar leithinis Chorca Dhuibhne.
díograis agus dearfacht oscailte a léiriú maidir le Corca Dhuibhne agus gach a chuireann sí ar fáil do ghnónna, áitreabhaigh agus pobail an fhiontair agus na cruthaitheachta
tacú le tionscnaimh agus fiontair nuathionscanta timpeall ar réimsí an athrú aeráide agus inmharthanachta, an claochlú digiteach agus na tionscail chruthaitheacha.
Cuspóir an Phoist: 
Bainistiú agus maoirsiú a dhéanamh ar gach gné d'oibriúcháin an mhoil, le ligint amach spásanna  ar cíos, ballraíocht, díolachán, agus imeachtaí san áireamh.
Cinntiú go mbíonn na spásanna oibre iomlán oibritheach agus go mbíonn cúrsaí sa mhol ag oibriú go réidh chun feabhas leanúnach a chur ar thaithí na mball. Fadhbanna na mball a réiteach chun cinntiú go mbíonn pobal dlúth ann agus bainistiú a dhéanamh ar a bhfuil na baill ag súil leis.
A chinntiú go mbíonn cúrsaí sábháilteachta i gceart do gach foirgneamh agus ball chomh fada is a bhaineann le tine, éigeandáil, agus pleananna paindéime.
Maoirseacht a dhéanamh ar oibriúcháin athchóirithe agus athfheistithe ar fhoirgnimh de réir mar is gá.
Bheith ag obair le baill eile fhoireann an mhoil chun timpeallacht bhríomhar, bheoga a chruthú i measc phobal an mhoil trí thionscnaimh phobail a fhorbairt atá dírithe ar líonraí agus nascanna a chothú i measc na mball. D'fhéadfadh seifteanna mar iad seo a leanas a bheith i gceist: baill a chur in aithne dá chéile, maoirseacht a dhéanamh ar imeachtaí, cumarsáid leictreonach agus clóite, agus turasanna timpeall an fhoirgnimh a thabhairt.
Brabús an mhoil a dhéanamh chomh hard agus is féidir trí bhearta smachta a chur i bhfeidhm timpeall ar chostaisí.
Oibriú go dlúth leis an mBainisteoir Cumarsáide agus Bainistíochta chun gach dá bhfuil á chur ar fáil ag an mol a chur chun cinn is a fhógrú.
Dícheall a dhéanamh chun a chinntiú go mbíonn Mol Chorca Dhuibhne ina áit iontach le bheith ag obair inti, agus go seasann sé mar eiseamláir mhaith do mhoil eile.
Scileanna agus Taithí Riachtanach:  
Beidh gá ag an iarrthóir buacach a bheith:
féin-thiomanta, éifeachtach agus fócas a bheith aige
ina ósta fíormhaith, dírithe ar sheirbhís don gcliant agus freagracht a ghlacadh thairis díreach a dhualgas bunúsach i leith an chliaint.
ina bhall maith foirne, in ann oibriú mar chuid de roinnt mhaith foirne éagsúla
cairdiúil le cur chuige dearfach neamhspleách
paiseanta agus tuisceanach ó thaobh pobal fiontraíochta/cruthaitheacha/tuaithe
in ann dílseacht, iontaofacht, freagracht, féin-fheasacht, eitic oibre agus comhbhá a léiriú.
solúbtha le bheith in ann oibriú thar níos mó ná suíomh oibre amháin agus a bheith toilteanach bheith ag obair roinnt tráthnóntaí agus deirí seachtaine.
Ní mór don iarrathóir buacach iad seo a leanas a bheith aige:
cáilíocht triú-leibhéil i réimse  a bhaineann le hábhar, e.g. Gnó, Bainistíocht Tionscadail, Riarachán Gnó, nó taithí a bheith acu ar bhainistiú oibriúchán, go háirithe i dtimpeallacht chomh-oibre
tuiscint ar bhainistiú foirgnimh agus cothabháil réadmhaoine
tuiscint ar chúrsaí sláinte agus sábháilteachta i bhfoirgneamh poiblí
tuiscint ar chonraí ballraíochta agus/nó conraí cíosa
taithí ar bhainstiú imeachtaí
taithí ar fhorbairt pholasaí agus gnás
taithí ar mhonatóireacht, tuairisciú agus taifid chruinne airgeadais a choimeád
cumas maith timpeall ar fhigiúirí, corrlaigh, buiséid agus ioncam
meas agus tuiscint ar chultúr is saol tuaithe na hÉireann, leis an gcumas Gaeilge a léamh is a labhairt san áireamh.
taithí ar fhiontraíocht/gnó áitiúil a fhorbairt
taithí ar fhoireann nó oibrithe deonacha a bhainistiú
aird ar mhionsonraí, leis an gcumas an pictiúr níos mó a fheiscint leis.
ard-scileanna bainistiú ama agus tionscadal
ard-scileanna scríofa agus cumarsáid labhartha, le scríobh tuairiscí san áireamh.
scileanna maithe ríomhaireachta – Word, Excel, Zoom, srl.
ceadúnas tiomána iomlán glan
Scileanna agus Taithí Chabhrach
Ba bhuntáiste iad seo a leanas:
taithí ar mhargaíocht agus cumarsáid, na meáin shóisialta san áireamh
tuiscint áirithe ar líonraí, idir líonraí le sreang agus líonraí gan sreang
taithí ar, nó spéis phearsanta i, ngníomhaíocht aeráide agus tionscnaimh inmharthanachta
taithí ar, nó spéis phearsanta ins, na tionscail chruthaitheacha
taithí ar bheith ag obair ag leibhéil an phobail
Rialachas
Beidh an Bainisteoir Spás Obair Comhroinnte fostaithe ag Mol Teic (ag trádáil mar Mhol Chorca Dhuibhne) agus ag tuairisciú le Bainisteoir Ginearálta Mhol Chorca Dhuibhne maidir le bainistíocht ó lá go lá agus cinní faoi thosaíochtaí oibre.
Tuarastal
Is é réimse an tuarastail ná €40,000- €45,000, ag brath ar thaithí. Beidh tréimhse phromhaidh de sé mhí ar dtús.
Uaireanta Oibre
Is post lán-aimseartha é seo a leanfaidh ar feadh 12 mí. Tá féidearthacht ann go sínfear tréimhse an phoist go 36 mí, ag brath ar mhaoiniú a bheith ar fáil chuige. Cearta saoire bliantúla ná 24 lá sa bhliain.
Cé go mbíonn an mol ar fáil do chliaint ar bhonn 24 uair, níltear ag súil go mbeidh seirbhísí bainistíochta ar fáil ach ach le linn príomh-uaireanta oibre  09:00 – 17:00 agus tá cúntóir riaracháin ar fáil don bhfoireann chun tacú leis seo. D'fhéadfaidh go n-athróidh uaireanta/fad an lae oibre, ag brath ar imeachtaí sceidilithe agus an gá a bheith ar fáil lasmuigh de ghnáth-uaireanta oifige ó am go ham chun freastal ar riachtanais baill phobal an mhoil . Ar an mbonn sin, d'fhéadfadh uaireanta neamhshóisialta, leithéidí tráthnóntaí agus deirí seachtaine, a bheith bainteach leis an bpost, agus beidh gá le solúbthacht dá bharr.
Ionad
Beidh an post lonnaithe i Mol Cruthaitheachta agus Nuálaíochta Chorca Dhuibhne, Páirc Ghnó an Chúilín, An Daingean, Co. Chiarraí, agus beidh sé raichtanach taisteal ar fud Chorca Dhuibhne de réir mar a thabharfar ionaid bhreise oibre ar bord. Táthar ag súil go mbeidh ar a laghad suíomh breise amháin ag teacht ar líne le linn an chéid thréimhse 12 mí den chonradh seo. Níos faide amach, d'fhéadfadh go mbeidh idir 3 agus 5 suíomh breise i gceist.
D'fhéadfadh go mbeidh gá bheith ag obair ó bhaile má thagann tuilleadh srianta Cóibhide i bhfeidhm.
Próiseas Iarratais
Cuir do CV agus litir chlúdaigh ag cur síos ar do spéis agus oiriúnacht don bpost seo go dtí Deirdre de Bhailís ag jobs@dinglehub.com
Is é an dáta dúnta d'iarratais ná 5in, Máirt 21 Meán Fómhair 2021
Tionólfar agallaimh don bpost le linn na seachtaine dar thús 27 Meán Fómhair 2021