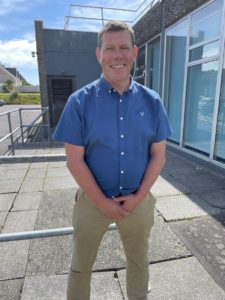 'Sé Bernard Ó Súilleabháin an Riarthóir Oifige agus Tionscadail nua sa Hub. Chomh maith lena chéim i Gnó & Margaíocht tá ana thaithí aige i gcúrsaí talamhaíochta, turasóireachta, stáiseanóireachta, margaíochta agus seirbhís chustaiméara. Cuirfidh sé seo go mór leis na tionscadail atá idir lámha againn anseo sa Hub. Roimhe seo bhí Bernard ag obair (ó bhaile) le Amazon agus is iontach an rud é go bhfuilimid in ann post eile a thabhairt do dhuine áitiúil.
Is ón nGráig, Baile an Fheirtéaraigh ó dhúchas do Bhernard agus tá baint aige fós le cursaí feirmeoireachta agus turasóireachta ann. Beidh sé gnóthach go maith leis an il-iomad tascanna atá á ghlacadh aige mar chuid dá ról nua. Mar shampla, ag tuairisciú ar dhul chun cinn na dtionscadal éagsúla i gcoinne spriocanna, ag léiriú d'ár gcliaint atá ag tógaint seomraí cruinnithe nó spásanna oibre ar cíos, conas mar a oibríonn na háiseanna oibre agus ag eagrú cruinnithe lenár bpáirtnéirí seachtracha.
Deir Bernard go bhfuil sé "ag tnúth go mór le bheith ag obair ar thionscadail éagsúla, iad siúd ach go háirithe a bhaineann le fuinneamh agus talamhaíocht – tá siad ceannródaíoch!"
__________________________________________________
We have a new team member to introduce! Bernard O'Sullivan is the new Office and Projects Administrator with Dingle Hub. As well as a degree in Business and Marketing he has loads of real-world experience across agriculture, tourism, the stationery business, marketing and customer relations. All great experience to bring to the projects we run in Dingle Hub! His most recent job was with Amazon (working remotely) and it's great that we are able to give another local person employment.
Bernard comes from Gráig near Ballyferriter where he's still involved in farming and tourism. He has a busy and varied set of tasks on his to-do list in this new role. For example: compiling reports on how our projects are delivering against targets, showing our clients who are hiring meeting rooms or desks how the facilities work and setting up meetings with our external partners.
He says: "I'm getting to work on these great projects that Dingle Hub is involved in. I'm especially excited about the Energy and Agriculture projects – they really are cutting edge!"