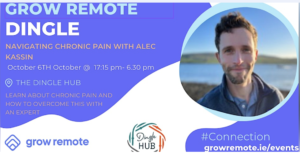 Grow Remote Dingle sponsors a talk on navigating chronic pain, with chronic pain coach and empowerment speaker Alec Kassin.
Date: October 6th
Time: 17:15 – 18:30
Place: Dingle Hub
In today's fast-paced world, remote work offers incredible flexibility and freedom. Yet, for many remote workers, it comes with its own set of challenges, including chronic pain. Despite remarkable scientific advancements, millions of people are still battling persistent pain daily. If you or someone you know is a remote worker grappling with physical pain challenges, this event is your beacon of hope.
Join us for an enlightening and FREE talk with Alec Kassin, a certified breakthrough chronic pain coach who has not only triumphed over severe chronic pain himself but has also empowered countless others to reclaim their lives. Discover how emerging science and brain-centered approaches are reshaping the landscape of pain management and offering new possibilities for healing.
During this informative session, you'll:
🧠 Explore cutting-edge science: gain insights into the latest scientific discoveries that unveil the root causes of chronic pain.  Alec will break down complex concepts, making it accessible to all.
🌟 Witness success stories: hear inspiring success stories from individuals who were once imprisoned by chronic pain but have since regained control over their lives. Learn how they did it, and find hope in their journeys.
🛠️ Acquire practical tools: access a toolbox of practical tools and resources that you can apply immediately to alleviate pain and improve your quality of life. These strategies are invaluable for remote workers dealing with the unique challenges of their work environment.
Who it's for:
Chronic pain sufferers (back, knee, hip, shoulder, neck, elbow, ankle, and much more.)
Those dealing with conditions like IBS, RSI, migraines, fibromyalgia, and chronic fatigue
Coaches, physicians, and those in the wellness industry
Those with loved ones suffering from persistent chronic pain
Chronic pain doesn't have to define your life. Whether you're experiencing pain yourself or supporting a loved one, this event is your opportunity to discover a path toward healing and empowerment.
Speaker:
Alec Kassin is a certified breakthrough chronic pain coach and empowerment speaker. Born in California, he was diagnosed with a ruptured spinal disc while racing as a semi-pro cyclist at age 18. This brought an end to his dream of being a professional cyclist, leaving him partially bedridden and unable to attend college. However, after an intense two-year physical and psychological journey, he became pain-free, and has since immersed himself in the world of chronic pain. Through a scientifically-backed approach, he's helped his clients with back, knee, ankle, hip, neck, hand pain, migraines, chronic fatigue, and more take back their lives.