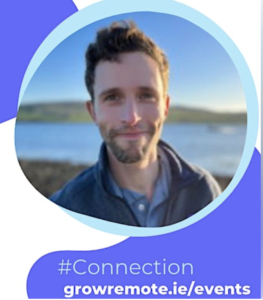 Join us for a rejuvenating morning of mindfulness and meditation in the serene setting of the Dingle Hub. In today's fast-paced world, remote work can be both liberating and challenging. Finding balance and inner peace is essential for remote workers to thrive, and this event is designed to help you do just that.
Date: October 4th, 2023
Time: 10:15 AM
Our meditation morning offers a unique opportunity to step away from your desk and immerse yourself in a tranquil space, surrounded by the natural beauty of the Dingle Peninsula. Whether you're an experienced meditator or completely new to mindfulness practices, this event welcomes all levels.
Sign up for the meditation morning at Eventbrite.
Plus, after this event we have organised a coffee morning at the hub.  You can sign up at Eventbrite.
About Alex Kassin:
Alec Kassin is an empowerment speaker and breakthrough chronic pain coach.
From California, he suffered from severe back pain while racing as a semi-pro cyclist at age 18. This brought an end to his dream of being a professional cyclist, leaving him partially bedridden and unable to attend college. However, after an intense 2-year physical and psychological journey, he became pain-free, and later graduated from UC Berkeley.
After his remarkable recovery, Alec became inspired to help others transform their lives, spending five years at LinkedIn as a Manager and Mindfulness & Compassion Ambassador before co-founding an organization called Changing Work to make work more purposeful.
He has earned praise from audiences around the globe for his compelling, vulnerable and inspiring presentations, and has a track record of helping empower people to make remarkable transformations.
DISCLAIMER: Photos and videos will be taken on the day and used for social media