We have had an extra member of the team over the last few months. Caragh approached Dingle Hub for an internship, so she could explore career opportunities and to learn new skills. She has proved to be a great help to the team, particularly in our busy Summer period. Here's her report on her time so far.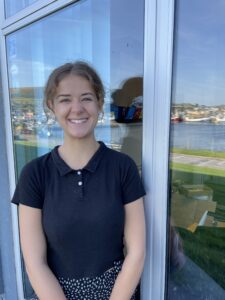 My name is Caragh Koenig. I am 18 years old and from Hamburg in Germany. Dingle Hub has given me the opportunity to do a three month internship with them. It's a great experience as I am doing a two year Business course back home and through the EU's Erasmus scheme  (A programme to support education, training, youth and sport across Europe.) I am able to stay in Dingle from July to October. 
Working in Dingle Hub is great – The shared workspace has had different people coming in every day, which means many interesting tasks for me and everyone is so pleasant! Since Dingle Hub is also very involved in sustainability projects, my work also provides a lot of variety. In one day, I could find myself working on emails at the desk, helping to set up meetings or visiting a farm!  I am very thankful to the team to give me the opportunity to help organise and attend important events and sometimes meet influential people.
I'm also very happy to have been living in Dingle. The town has an amazing charm and atmosphere – I instantly felt welcome among the nice and friendly people. When I go back to Germany in a few weeks I know that I can look back on a great time!