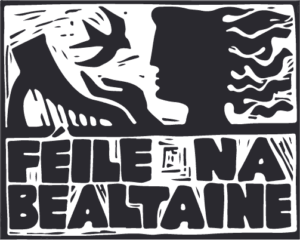 Féile na Bealtaine, the Music & Arts Festival is happening in Dingle over the May Bank Holiday weekend (28 Aibreán – 2 Bealtaine / 28 April – 2 May 2022 ) and the huge array of events are outlined on their website www.feilenabealtaine.ie.
Dingle Hub are involved in several events. Bígí linn / Join us!
Voices from the Field
Venue: Dingle Mart, Spa Road
Date: Friday 29th May from 12noon to 1pm
Lisa Fingleton is the Embedded Artist with Corca Dhuibhne Inbhuanaithe, our creative climate action project with farmers from across the Dingle Peninsula. She will be sharing some of her creative responses (photographs, drawings and journals) to hearing their voices and experiences in relation to climate change and the impact of extreme weather events.  Lisa will be joined for this session by some of the farming participants – it will be an unique opportunity to hear the learnings so far.
Caint iontach do aon duine le suim i timpeallacht na háite. Lón san aireamh. Saor in aisce/Free admission and includes a light lunch.
Corca Dhuibhne Inbhuanaithe, A Creative Imagining is one of 15 projects supported under the inaugural Creative Ireland Climate Action Fund. Tá Dingle Hub ag stiúir an tionscnamh seo le MaREI agus an Green Arts Initiative in Ireland.
Film Showcase
Venue: An Díseart, Fresco Room
Dáta: Friday 29th April / Dé hAoine 29ú Aibreáin
Am: 4.30p / 4.30i.n.
We're really excited to see the short drama films and group music videos produced by the Principles of Film workshop, which was held at Dingle Hub over Winter.  This intensive course in film studies and filmmaking covered theory and practice and was facilitated by Dr. Ciara Barrett, lecturer in Film Studies, and Mark McLoughlin, award-winning documentary filmmaker with local production company Bang Bang Teo.
The course focused on three main areas of film: documentary, music video, and short drama production. Participants got to use state-of-the-art equipment and had opportunities for work placement as well as expert mentorship. This screening will highlight the products of their hard work.
This event begins with a champagne reception to celebrate the achievements of the filmmakers  and their tutors – well done all!

'Ar an Imeall'/ 'On the Edge' 
Venue: Dingle Courthouse
Launch: Friday 29th April 8pm
Exhibition open Saturday 30th April, Sunday 1st May and Monday 2nd May 11am – 5pm
We're delighted to be exhibiting the bilingual sound installation that was created for TG4 television series, Creative Company. The creative team who worked on the piece include Dingle Hub staff Deirdre de Bhailís and Maggie Breen, along with Deanna O'Connor, Anne Tracey, Bernard O'Sullivan and Fiona Ní Mhurchadha.
The concept comes from shared experiences of moving to the Dingle Peninsula or returning here. It explores the idea of taking a step into the unknown to create a better life and considers what it's like to take a risk and to live on the edge. The recordings and soundscapes were recorded in inspirational locations on the Dingle Peninsula like Mount Brandon and Gallarus Oratory.
Tá áthas orainn go mbeidh an píosa ealaíne seo (suiteán fuaime dhá theangach) le feiscint an deireadh seachtaine beag seo mar chuid d'Fhéile na Bealtaine. Chruthaíodh an píosa ealaíne seo do 'Creative Company', sraith theilifíse TG4. Anne Tracey, Bernard O'Sullivan, Deirdre de Bhailís, Maggie Breen, Deanna O'Connor agus Fiona Ní Mhurchadha a bhí mar chuid den bhfoireann cruthaitheach a chruth an píosa le chéile.
Tagann an coincheap don bpíosa ón dtaithí coiteann atá ag gach duine san fhoireann againn bogadh go Chorca Dhuibhne nó filleadh ar ais anseo; déanann an píosa seo iniúchadh ar chéim a thógaint isteach sa dorchadas chun saol níos fearr a chruthú/chur ar bun agus féachann sé ar conas a bhraitheann sé chun dul sa tseans agus a bheith ag maireachtaint ar an imeall. Taifeadadh é ag áiteanna ionspioráideacha ar leithinis Chorca Dhuibhne – Cuan, Cnoc Bhréanainn agus Séipéilín Ghallarais.
Seoladh: Dé hAoine, 29ú Aibreáin 8i.n. @ An Chúirt Dúiche