Surprise Gift – Bronntanas duit!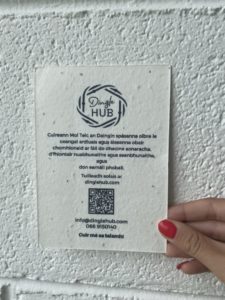 If you're lucky enough to live in Corca Dhuibhne you should have received something from us in the post recently. We sent out flyers reminding you (and anybody visiting) where we are and what we are doing on and for Dingle Peninsula. Feel free to keep this postcard on display so you know where to find us again!
In line with our mission to build a creative, liveable, sustainable, low carbon community this card is made with hemp paper and eco-friendly inks and no trees were used in their production. James Greany is a long-standing Dingle Hub client and he produced these memorable merchandise items for us through his company Skyscraper.ie. Skyscraper design and manufacture high quality sustainable products, using only certified materials and manufacturing methods.
The card we sent out is completely compostable and an alternative to keeping it on display is to plant it. Yes, these cards can turn into a plant with a little TLC! (If you hold it to the light, you might see that there are seeds inside).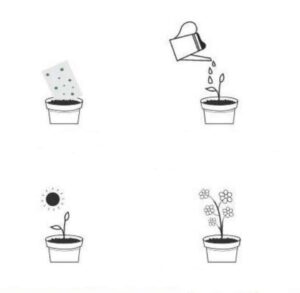 Take these steps to grow your own Dingle Hub plant:
Soak the card in a tray of water for 24 hours (to give seeds a better chance of growing)
Plant the card in soil (in a pot or in your garden)
Water regularly and watch for growth – you should soon have a lavender plant!
Optional: Take a photo and share on social media, with hashtag #dinglehublavender and tag us with your plant's progress!