Corca Dhuibhne 2030 initiative wins Pride of Place award
Bhí baill d'fhoireann Mhol Chorca Dhuibhne i láthair ag searmanas gradam 'Pride of Place' IPB i gCill Airne le déanaí agus bhí gliondar orthu nuair a bhuaigh tionscnamh Corca Dhuibhne 2030 Gradam Gníomhaíocht Aeráide. Cuireadh tús leis an tionscnamh ilpháirtí seo sa bhliain 2018. Tá sé mar chuspóir ag ár dtionscnamh na hathruithe sochaíocha atá de dhíth chun aistriú go sochaí ar charbón íseal a éascú trí bheith ag obair ar thionscadail le scoileanna, gnólachtaí, agus an pobal feirmeoireachta áitiúil.
Members of Dingle Hub team attended the IPB Pride of Place awards ceremony in Killarney recently and were delighted that the Corca Dhuibhne 2030 initiative won a Climate Action Award. This multi-partner initiative began in 2018. Our initiative seeks to enable the societal changes needed to transition to a low carbon society by working on projects with schools, businesses, and the local farming community.
Competition judges said they are convinced that the mission to build a creative, sustainable, and inclusive community in the Dingle Peninsula is well on the way to being achieved. Collecting the award on the night was Deirdre de Bhailís, General Manger with Dingle Hub who had this to say:
"We started with a remote working hub, but we built on that to develop it as a focal point for community climate action. Thanks to the communities of West Kerry for their openness to innovation. This really is the reason we could work with researchers, policy makers and national agencies to find solutions to the climate challenge. It allows us all to work together towards an environmentally, economically and socially sustainable future."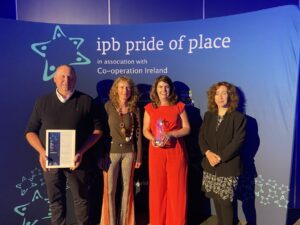 Dúirt moltóirí an chomórtais go gcreideann siad nach fada go mbeidh an misean chun pobal cruthaitheach, inmharthanach agus ionchuimsitheach a thógáil ar Chorca Dhuibhne bainte amach. B'í Deirdre de Bhailís, Bainisteoir Ginearálta Mhol Chorca Dhuibhne, a bhailigh an gradam ar an oíche, agus bhí seo le rá aici:
"Thosnaíomar le mol cianoibre, ach thógamar air sin, á fhorbairt mar chroílár do ghníomhaíocht aeráide pobail. Ár mbuíochas le pobail Chorca Dhuibhne as a hoscailte is a rabhadar don nuálaíocht. Is é seo an chúis, le fírinne, go rabhamar in ann bheith ag obair le taighdeoirí, lucht ceaptha polasaí, agus áisíneachtaí náisiúnta chun teacht ar réitigh ar an dúshlán aeráide. Cuireann seo ar ár gcumas oibriú as láimhe a chéile i dtreo todhchaí atá inmharthana ó thaobh timpeallachta, geilleagair agus cúrsaí sochaíocha araon."
Is comórtas uile-Éireann a thugann aitheantas d'obair pobal ar fud oileán Éireann é 'Pride of Place' IPB (i gcomhpháirt le Co-operation Ireland). Baineann fócas an chomórtais le daoine ag teacht le chéile chun saol laethiúil a bpobal a mhúnlú, a athrú agus a fheabhsú.
IPB Pride of Place (in association with Co-operation Ireland) is an all-island competition that acknowledges the work that communities are doing all over the island of Ireland. The competition focus is about people coming together to shape, change and improve daily lives in their communities.
We are also up for an award in the .IE Digital Town Awards, having been shortlisted in the Digital Changemaker category.  An-áthas orainn a bheith curtha san áireamh!
Last year we won the Small Town category as well as being their overall winner. That Awards Ceremony will be a virtual event, to take place on Wednesday 8th June.
Fáilte Dinny!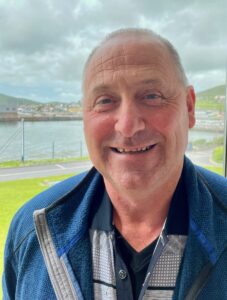 We have a new employee in the role of Energy and Agriculture Liaison Officer and it's a name you may be familiar with: Dinny Galvin.
As a dairy farmer, Dinny has been involved with Dingle Hub across several projects for some years now, like the Farm Ambassador Programme. This introduced sensor technology onto his farm (among others) to measure and manage soil moisture, milk and slurry height as well as providing localised weather data. He also works as a Community Energy Mentor and is the driving force behind the West Kerry Dairy Farmers Sustainable Energy Community.
This new part-time role will see Dinny drive local participation in the sustainable low carbon development of the Dingle Peninsula.  Go n-eirí leat Dinny!
Farmers Workshop
Last Wednesday, 18th May, more than 30 people attended a workshop for the EU Ploutos project held in O'Sullivans Bar, Garraí na dTor, Lispole.
The EU Ploutos project is all about working with local farms interested in starting agri-food or agri-tourism businesses. Sensor technologies installed on farms can provide useful data that helps new products be marketed.
This meeting heard farmer's views and experiences with the sensors to date, as well as their ideas about future developments. The idea of creating a bio-district for Dingle Peninsula was also discussed, which would increase the amount of organic farming here.
The gathering heard the experiences of Kate Carmody, an organic dairy farmer who has also begun to grow hemp on her land. She told the group that she now receives more for her milk, despite milking 20 cows rather than 70.
With lively debate and great feedback received, discussions lasted well into the night.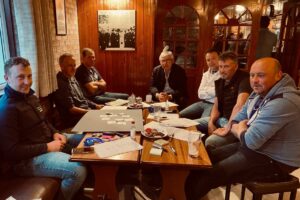 Ar an gCéadaoin seo caite, 18 Bealtaine, bhí breis agus 30 duine i láthair do cheardlann bainteach le Tionscadal Ploutos de chuid an AE. Reachtáladh an cheardlann i dTabhairne Uí Shúilleabháin i nGarraí na dTor, Lios Póil.
Baineann Tionscadal Ploutos le bheith ag obair le feirmeacha áitiúla go bhfuil spéis acu gnónna agrabia nó agrathurasóireachta a thosnú. Is féidir le teicneolaíocht bhraiteora ar fheirmeacha eolas áisiúil a sholáthar a chabhraíonn chun margaíocht a dhéanamh ar tháirgí nua.
Chuala an cruinniú seo dearcadh agus taithí feirmeoirí leis na braiteoirí seo, chomh maith lena smaointí faoi conas iad a fhorbairt amach anseo. Pléadh an smaoineamh bith-cheantar a chruthú i gCorca Dhuibhne, rud a chuirfeadh borradh faoin méid feirmeoireachta orgánaí a bhíonn ar siúl anseo.
Chuala an slua ó Kate Carmody faoina taithí mar fheirmeoir déiríochta órganaí atá tosnaithe ag fás cnáibe ar a cuid talún. D'inis sí don ngrúpa go mbíonn sí ag fáil níos mó airgid as a cuid bainne anois, in ainneoin a bheith ag crú 20 seachas 70 bó mar a bhíodh.
Le plé bríomhar agus aiseolas iontach, lean an cadráil i bhfad amach san oíche.
You and Dingle Hub
Have you been wondering about working from here? Thinking about hiring a desk- just for a day or a longer spell?  Don't delay contacting us – we are getting busier as the tourist season intensifies. Call us on 066-9150140 or e-mail info@dinglehub.com.
Má tá ceist ar bith agat faoi úsáid na seomraí cruinnithe nó spáis oibre is féidir teagmháil a dhéanamh linn.
To get regular news from Dingle Hub, follow us on social media. We want to network with people working on the peninsula. It's not necessary to have or use a physical desk or office space in Dingle Hub to be part of this wider community.