Bliain nua faoi mhaise daoibh ó gach éinne sa Hub.  Súil againn go bhfuil bliain maith agat go dtí seo, go háirithe leis an aimsir álainn le gairid.
Hope you're having a happy new year so far and that you are enjoying the recent good weather.
Change Makers
Bhí Dingle Hub le feiscint ar RTÉ1 tús mí Eanáir.  Sa chlár 'Change Makers' bhíomar ag léiriú an sórt taighde atá ag cabhrú go mór leis an obair atá idir lámha againn maidir le Dingle Peninsula 2030.  Bhí an feirmeoir Dinny Galvin ó Lios Póil ag caint faoi na buntáistí atá ag baint leis an teicneolaíocht nua atá ar an bhfeirm aige. Thug na scoláirí ó Mheán Scoil Nua an Leith-Triúigh Castlegregory inspioráid dúinn ar fad agus iad ag caint faoi a dtodhchaí ó thaobh athrú aeráide de agus a smaointe a bhí acu chun dul í ngleic léi.
Tá an clár fós le feiscint ar Sheinnteoir RTÉ anseo.
Dingle Hub took part in RTÉ's 'Change Makers' programme shown earlier in January, a 6-part series showcasing the remarkable and lasting public impact of leading research projects by eight universities in Ireland in areas such as children's health, health technology, education, youth justice, gender equality and inclusion, as well as the environment. Dingle Hub featured in the second episode, with a focus on environment & energy. The episode gave an insight into the kind of research that is helping hugely with the work we're involved in with our Dingle Peninsula 2030 initiative. Dinny Galvin from Lispole showed the advantages of the technology installed on his farm and the students from Meán Scoil Nua an Leith-Triúigh Castlegregory were very inspirational in how they talked about their futures and what their approaches are to climate change.
You can watch the episode back on the RTÉ Player.
New Faces
Who are these two walking down the lane in Cooleen with Maggie from the Hub?  More in our next update!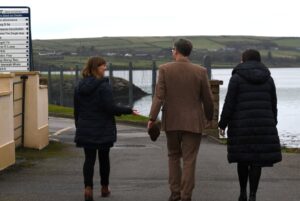 Maggie Breen walking with two others towards Dingle Hub
New Spaces
We've been making some improvements to the Hub workspace in Cooleen.  The latest addition are two privacy booths.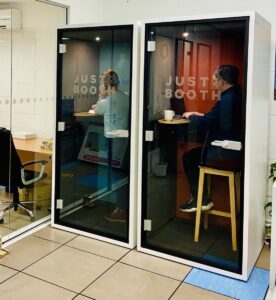 These kiosks offer privacy and a space for concentration
Booths are advantageous for somebody that wants to work in splendid isolation or just for taking a confidential phonecall once in a while.
Connections
We want to connect with people working on the peninsula and strengthen your network. It's not necessary to have or use a physical desk or office space in the Hub to be part of this wider network.
We all want a vibrant, diverse and dynamic community.
So if you have started working from here or are maybe considering a part-time or permanent move to the Dingle Peninsula, link in with us.  Particularly, if you are self-employed, remote working or starting up a business and would benefit from being part of something bigger.
Perhaps you are in a position within your business to bring remote working opportunities with you and build a team from here? We want to hear from you!!
Please connect with us at info@dinglehub.com and help us build the network.
As per current government guidelines, we are open for clients who have no alternative workspace.  You can make contact to book a workspace or for anything else by email info@dinglehub.com or call 066 9150140.
We'd also love you to connect with us on social media platforms – Twitter, Instagram, LinkedIn & Facebook.
Live in a Creative Place, Work in a Creative Space
Contact Us
Deirdre de Bhailís
Dingle Creativity and Innovation Hub
Tel.: 066 9150140
Email: info@dinglehub.com
Web:   www.dinglehub.com
The Dingle Creativity and Innovation Hub is a Community Enterprise supported by Enterprise Ireland, the Dept of Rural and Community Development through the Town and Village Renewal Scheme, eir, Údarás na Gaeltachta, Kerry Co Co and the Dingle Chamber Alliance.