Highlighting the work we do and engaging the community
Dingle Hub is proud to have won several awards for our efforts to bring sustainable, long-term jobs and growth to the peninsula.
SFI Engaged Research of the Year 2022
MaREI won the 2022 "SFI Engaged Research of the Year Award" for the Dingle Peninsula 2030 initiative. The winner was revealed at the November 20th SFI Science Summit, which celebrates the contribution researchers have made to Irish society and the Irish economy. The event was held in person for the first time in two years.
"It's a real honour to receive this award and I congratulate SFI for recognising and valuing engaged research in this way. Collaborating with our partners on the Dingle Peninsula has been such a privilege in building a new understanding of the technical and societal elements of sustainability transitions, as well as highlighting the role of multi-stakeholder collaborations. Integral to all of this has been hugely valuable community participation across all stages of the research cycle, which we were humbled by and are especially grateful for.
We found evidence of a rich diffusion of sustainability on the Dingle Peninsula and we were really anxious to share this with the outside world. By co-producing learning briefs we were able to document and share the learnings that are informing research, policy, state agencies and community groups working on climate action initiatives."
Prof Brian Ó Gallachóir
Director
MaREI
Inspirational Energy Community 2022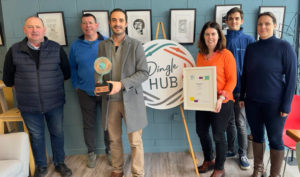 Corca Dhuibhne Sustainable Energy Community (SEC) has won the SEAI's Inspirational Energy Community award for 2022.
Established in 2018, Corca Dhuibhne SEC is part of the collaborative Dingle Peninsula 2030 initiative. We actively collaborate with the local community, including the education, business, transport, farming and tourism sectors. Our goal is to enable broader societal changes and foster a sustainable low-carbon transition. Dingle Hub is working to identify employment opportunities and develop a sustainable economic future for the area.
Through engaged research with MaREI, we are tracking, analysing and publishing our findings to help inform policy and practice on both the local  and national levels. We've alreadu reached up to 2,000 people from all sectors of society with our engagement events. Activities include an Anaerobic Digester Feasibility Study, audio training material, home trial on solar PV, battery management, heat pumps and electric vehicles. These projects show how collaboration can support and enable active community response.
The Dingle Hub team were delighted that the Corca Dhuibhne 2030 initiative won a Climate Action Award at the 2021 IPB Pride of Place awards held recently in Killarney. The multi-partner initiative, which began in 2018; works with schools, businesses, and the local farming community to help create the societal changes needed to transition to a low carbon society.
Competition judges said they believe the mission to build a creative, sustainable, and inclusive community in the Dingle Peninsula is well on the way to being achieved. Collecting the award on the night was Deirdre de Bhailís, General Manager with Dingle Hub, who had this to say:
"We started with a remote working hub, but we built on that to develop it as a focal point for community climate action. Thanks to the communities of West Kerry for their openness to innovation. This really is the reason we could work with researchers, policy makers and national agencies to find solutions to the climate challenge. It allows us all to work together towards an environmentally, economically and socially sustainable future."
Dingle Peninsula was both the small town winner and the overall winner of the .IE Digital Town Awards in 2021. 
Promoting innovation and imagining new ways of doing things through digital technology is the focus of the Dingle team.
Among the team's projects are a pilot project to increase sustainability and productivity by collecting 'real-time' agricultural data (such as weather, soil conditions and grass growth rates) using sensor technology. This data can promote carbon efficiencies that can extend the grazing season, providing increased profits for farmers.  'Real-time' weather data can also help tourism providers tailor packages based on changing weather conditions.
Dingle Peninsula 2030 was cited by the UN's Sustainable Development initiative as an exemplary project to help meet global sustainability goals.
"Established in 2018, Dingle Peninsula 2030 is an exciting and innovative partnership on the Dingle Peninsula in County Kerry, made up of the Dingle Creativity and Innovation Hub, ESB Networks (the national electricity distributor), North East and West Kerry Development – a community development organization – and the MaREI Centre, a research centre for energy, climate and the marine. Its aim is to work with the local community and transport and farming sectors to help the Peninsula become more sustainable and meet the United Nations Sustainable Development Goals."