Update March 2019
'Gráinne' was awarded 'An Físeán is Fearr' at TechFéile 2019. It was also shortlisted for YAOTY and the team were presented with their well-deserved runner-up award by Disney Executive, Orion Ross, at a special screening during Animation Dingle on 23rd March 2019. During the weekend Dingle Hub was also involved in other events including screening of Waking Ned Devine with Q&A by Hollywood writer and director of Waking Ned, Kirk Jones, as well as a Pow Wow chinwag with Kirk chaired by Hollywood Casting Director Ros Hubbard. We also hosted a super claymation workshop for young people facilitated by Paper Panther.
Bhronnadh duais 'An Físeán is Fearr' ar 'Gráinne' ag TechFéile 2019. Bhí an scannán gearrliostaithe chomh maith don YAOTY agus bhron Disney exec Orion Ross duais thánaisteach ar an bhfoireann ar fad ag léiriú scannáin speisialta i rith Animation Dingle ar an 23ú Márta 2019. I rith na seachtaine bhí baint ag an Dingle Hub le imeachtaí eile – léiriú scannán de Waking Ned Devine le Q&A leis an stiúirtheoir and scríbhneoir Kirk Jones, Pow Wow le Kirk agus Ros Hubbard (stiúirtheoir páirteanna Hollywood). Chomh maith le sin bhí ceardlann chrébheochana á chur ar fáil sa Dingle Hub le áisitheoirí ó Paper Panther.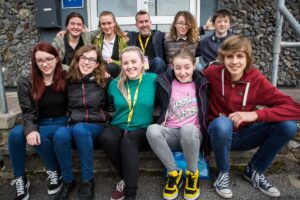 With support from KETB, Clár TechSpace, Creative Ireland Kerry, Údarás na Gaeltachta and Roinn na nEalaín, we ran a series of animation workshops over 10 weeks for teenagers here in the Dingle Hub. The aim was to make a short animated film in Irish using a story from Irish mythology.
A public screening was hosted in the Dingle Hub in December 2018 and the film was entered in the YAOTY (Young Animator of the Year) award as part of Animation Dingle which takes place every year in March. The students had the opportunity to read ancient literature and interpret through Irish using new technology. This helped them to improve their Irish and also to learn new technical skills. The audience had access to ancient Celtic literature in the form of animation and this contributed to the fun and value that people put on our cultural heritage.
Le tacaíocht ó Bhord Oideachais agus Oiliúna Chiarraí, Clár TechSpace, Éire Ildánach Chiarraí, Údarás na Gaeltachta agus Roinn na nEalaín chuirtear sraith ceardlann 10 seachtaine do dhéagóirí ar súil sa Dingle Hub . An aidhm a bhí leo ná gearrscánnán beochana as Gaeilge a chruthú ag baint úsáide as scéal ó Mhiotaseolaíocht na nGael.
Cuirtear seóthaispeántas poiblí ar siúl sa Dingle Hub i mí na Nollag 2018 chun an scannán a thaispeáint don chéad uair agus cuirtear an scannán isteach ar an ngradam Young Animator of the Year a bhíonn ar siúl le linn Animation Dingle i mí Márta gach bliain. Bhí deis ag daltaí a léamh féin a dhéanamh ar litríocht ársa ár sinsear ina stíl féin, as Gaeilge agus trí mheán nua-aimseartha cumarsáide. Chabhraigh sé seo leo feabhas a chur ar a scileanna sa Ghaeilge agus anuas air sin, scil nua teicniúil a fhoghlaim. Bhí teacht ag lucht féachana scannanaíochta ar sheanlitríocht na gCeilteach i bhfoirm beochana agus chuir sé sin leis an taitneamh agus leis an luach a chuireann daoine ar ár n-oidhreachta chultúrtha.