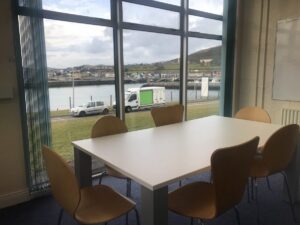 What's happening in the Hub?
We've been listening closely to the needs of those of you who are currently working remotely from the Dingle Peninsula and it seems clear that the provision of space to enable professional video conferencing with high spec technology and reliable broadband is one of the key requirements. This can facilitate commercial meetings, training sessions, webinars and the general digital enablement of activities on the Peninsula. For this reason, the Dingle Hub is seeking proposals for the provision of a full video conferencing solution for a meeting room located at the Dingle Creativity and Innovation Hub in Cúilín Business Park. Full details of the brief can be found on www.dinglehub.com/vacancies. If you are interested in working with us to complete this project, please send a proposal to tenders@dinglehub.com no later than 15:00 on Wednesday, August 26th. The installation needs to be completed by the end of October 2020 and has a maximum budget of €7,500.
It is important to note that access to the Dingle Hub will be by prior appointment only for the duration of Covid-19 restrictions. Anyone who wishes to use the facilities can book a hot desk online at www.dinglehub.com or contact info@dinglehub.com to arrange longer term options. Our conference room is currently available for online booking on a half-day or full-day basis. The conference room can accommodate up to 3 people while maintaining social distancing. Make sure to contact us to discuss your needs as we have packages to cater for those who want to work from here on a partial, intermittent or permanent basis.
Stay safe and well everyone.
Live in a Creative Place, Work in a Creative Space
Contact: Deirdre de Bhailís
Dingle Creativity and Innovation Hub
Tel.: 066 9150140
Email: info@dinglehub.com
Web: www.dinglehub.com

The Dingle Creativity and Innovation Hub is a Community Enterprise supported by Enterprise Ireland, the Dept of Rural and Community Development through the Town and Village Renewal Scheme, eir, Údarás na Gaeltachta, Kerry Co Co and the Dingle Chamber Alliance.