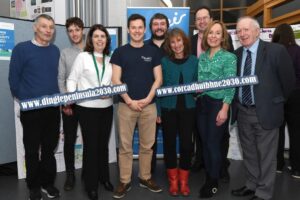 What's happening in the Hub?   

Thanks to all 250! of you who joined us for the launch of Corca Dhuibhne 2030 / Dingle Peninsula 2030. It was great to hear your stories, experiences and queries and over the year we hope to use these to build a repository of useful, locally relevant information on the newly launched www.corcadhuibhne2030.com website. To help address some of the questions you have, ESB Networks Dingle Project are planning Information Sessions for the Dingle Peninsula over the next 2 months to cover a number of topics, including: 
Electrification of Heat

Electrification of Transport

Solar PVs

Battery Management Systems

Property Retrofits

SEAI Grant Funding

 
The information sessions are currently in planning stages, but expect each session to be about 60–90 minutes and have a mix of Independent Experts/Dingle Community Members/ESB Staff.  Each session will include a presentation followed by a Questions and Answers session with a panel of experts.  If there is anything in particular that you would like to see included or if you have any specific questions, please send them through to dingle@esbnetworks.ie and they will be included where appropriate. Once available, further details on dates and locations for these sessions will be published here and also in the diary of events on www.corcadhuibhne2030.com
Congratulations and good luck to Gráinne Keegan and Gorongosa Media, who have a base in Dingle Hub; two films produced by them are finalists for the World Wildlife Day 2020 Film Showcase at the United Nations in New York City on 3rd March – "Our Gorongosa – a Park for the People" and "On the Front Lines – The Rangers of Gorongosa". Gorongosa National Park (GNP) in Mozambique is perhaps Africa's greatest wildlife restoration story. In 2008, the Government of Mozambique and the Carr Foundation (Gorongosa Restoration Project), a US nonprofit organization, signed a 20-year Public-Private Partnership for the joint management of the Park. As part of the larger team, Gorongosa Media create short and long form films to raise awareness of the Park. By adopting a 21st Century conservation model of balancing the needs of wildlife and people, the team are protecting and saving this beautiful wilderness. 
If you dread the thought of speaking up in a meeting, giving a presentation at work or making a speech, then the course for you is starting soon. Brought to you by The Speak Up Club, a social enterprise working to empower women as leaders in business and their communities, and Dingle Hub, over four evening workshops, 'Communicating with Confidence' will teach you essential public speaking skills and build your confidence, in a friendly, supportive small group setting. Workshop leader Deanna O'Connor will help you overcome your fears, with proven tactics to regain calm and composure, and elevate your skillset to become a polished, confident public speaker. The Communicating with Confidence Course runs over 4 Wednesday evenings from 7pm-9pm on the following dates: 15 April / 22 April / 29 April / 6 May 2020. Places limited to 12 people. Bookings and further info: 
www.eventbrite.ie/e/communicating-with-confidence-for-women-tickets-95456505979
The main goal of the Dingle Hub is to create viable and sustainable jobs on the Dingle Peninsula. This is achieved through organising workshops, events, projects, community engagement, etc. and supported by funding and grant assistance. We work in three main areas – Digital Transformation, Environmental Sustainability and Creative Industries. Come and have a chat if you have an idea for a project/event/workshop that would be beneficial to the community and contribute to job creation.  
If you're working from Dingle and are in need of office space, the Hub offers hot desks, dedicated desks and private offices with access to 1Gbps of eir Fibre Broadband, a dedicated telephone landline, free parking, 24-hour access and more.
Live in a Creative Place, Work in a Creative Space
Contact: Deirdre de Bhailís 
Dingle Creativity and Innovation Hub 
Tel.: 066 9150140
Email: info@dinglehub.com  
Web:   www.dinglehub.com
The Dingle Creativity and Innovation Hub is a Community Enterprise supported by Enterprise Ireland, the Dept of Rural and Community Development through the Town and Village Renewal Scheme, eir, Údarás na Gaeltachta, Kerry Co Co and the Dingle Chamber Alliance.