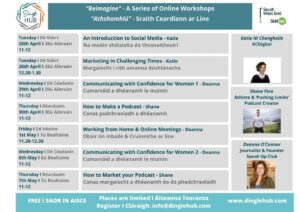 What's happening in the Hub?   
We hope you are all keeping well in these challenging times. We're delighted to help in any way we can. If you're offering essential services on the Dingle Peninsula or online sales/phone sales/takeaways, tag us on social media and we're more than happy  to spread the word. Currently we have a folder on our Instagram profile page, 'Dingle Online' which shows the businesses we know of that are currently in operation in any form. 
We're delighted to announce a series of workshops to support businesses and people on the Dingle Peninsula. Areas covered by our panel of expert facilitators include social media with Katie Conneely, getting a podcast up and running with Shane Finn and Communicating with Confidence with Speak Up Club founder Deanna O'Connor. To see the full list of workshops we're offering check out our poster in this edition of West Kerry Live. For more info go to our website www.dinglehub.com or follow us on social media. The workshops are free and are funded by South West Gnó Skillnet. Each workshop is limited to 15 places so make sure to book asap. To register contact us by email at info@dinglehub.com
Dingle Peninsula 2030 is a community initiative for a more environmentally and economically sustainable future on the Dingle Peninsula. Now, more than ever, it is critical that we build local skills and capacity in a diverse range of areas with growing employment potential. As part of the ESB Networks Dingle project, Dingle Peninsula 2030 is inviting expressions of interest from suitably qualified persons to undertake training and registration processes necessary to become an SEAI registered Technical Advisor to support energy efficiency upgrades of homes, businesses and community facilities. This initiative is also supported by SFI funded "Activating the Energy Citizen" project. For further details see the advert in this issue or visit www.dinglepeninsula2030.com.
The second Interim Report on the Feasibility of Anaerobic Digestion (AD) on the Dingle Peninsula has now been approved by the project steering group and has been published on www.dinglepeninsula2030.com. It is an extensive body of work that provides a very thorough assessment of the potential for AD on the peninsula. We would like to sincerely thank XD Consulting and team, which includes local AD design expert Tim Clarke, for such a comprehensive and informative study. Some of the key findings at this point are that the production of combined heat and power is not a financially viable option and so more detailed designs will focus on plants that produce biomethane. The report recommends a gradual deployment starting with a plant that operates with non animal by-product (ABP) feedstocks for the production of biomethane initially for grid injection and compost from the digestate. In parallel, local markets for compressed biomethane should be developed and national markets will further mature. Once these markets are available, it becomes financially viable to move to a plant incorporating ABP (ie slurry). It is also recommended to include a food-grade CO2 liquefication plant as this would generate substantial additional revenues. The final steps to complete this study will be to map out potential business models, recommend a financing strategy and advise best practice for community ownership and financial participation. A roadmap for the project development including a 5-year action plan will be produced to help guide the community through project implementation.
Over the past 6 weeks, as the COVID-19 pandemic has unfolded ESB Networks have been managing the operations of their business, and focusing on critical roles and front-line activities to ensure they continue to provide a safe and reliable electricity service for the country. They are committed to supporting the government's plans to ensure the virus doesn't spread and as a result, the postponement of all public Dingle Project Engagement activities will continue for now.  This includes the launch of the Electric Vehicle trial that was planned for early May.  But just to keep you updated, Hyundai has won the tender and the model that will be used in the trial is the Kona Electric https://www.hyundai.ie/home/kona-electric.html.  Work is also continuing also on Smart EV Chargers for the home.  Anything that they can progress at this point they are, so that once Government eases restrictions and society is ready, they will be in the best shape possible to start this part of the project.  They look forward to working with Hyundai and the community when the time is right.
Ag guí sláinte agus suaimhneas oraibh na laethanta deacra seo. Stay safe and well everyone.
Live in a Creative Place, Work in a Creative Space
Contact: Deirdre de Bhailís 
Dingle Creativity and Innovation Hub 
Tel.: 066 9150140
Email: info@dinglehub.com  
Web:   www.dinglehub.com

The Dingle Creativity and Innovation Hub is a Community Enterprise supported by Enterprise Ireland, the Dept of Rural and Community Development through the Town and Village Renewal Scheme, eir, Údarás na Gaeltachta, Kerry Co Co and the Dingle Chamber Alliance.