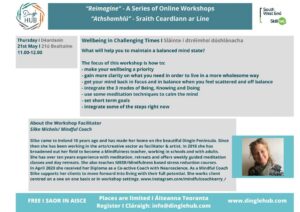 What's happening in the Hub?   
We hope you are all finding ways to be well in these uncertain times. We're happy to help in any way we can. 
We're delighted to continue with our Reimagine – A Series of Online Workshops to support businesses and people on the Dingle Peninsula. This exciting series of online workshops is being run by Dingle Hub, enabled by funding from South West Gnó Skillnet. These workshops have been conceived as a way to support businesses and individuals on the Dingle Peninsula; they guide participants in these interactive workshops to find ways to reimagine and to find new opportunities and ways of working in these challenging times. 
Due to popular demand we will run the social media workshops with KCDigital Katie Conneely/Katie Ní Chonghaile again. Do you need help with just getting started on social media, are you finding it difficult to market your product or do you need to look at connecting with/attracting new audiences/markets? – 'Introduction to Social Media' on Tuesday 12th May 11-12 and 'Marketing in Challenging Times' on Wednesday 13th May 11-12. Want do you get yourself motivated and moving on new ideas and directions these days? 'Motivation & Goal setting in Uncertain Times' on Thursday 14th May 11-12 with athlete and motivational speaker Shane Finn. Would you like to explore mindfulness and how it can help? What resources can you use to maintain a balanced mind in these challenging times? Silke Michels will facilitate 'Wellbeing in Challenging Times' on Thursday 21st May 11-12. 
Each workshop is limited to 15 places so make sure to book asap. To register contact us by email at info@dinglehub.com For more info check out our website www.dinglehub.com and follow us on social media. If there are other workshops/topics that would be beneficial to you please let us know. 
Ag guí sláinte agus suaimhneas oraibh na laethanta deacra seo. Stay safe and well everyone.
Live in a Creative Place, Work in a Creative Space
Contact: Deirdre de Bhailís Dingle Creativity and Innovation Hub 
Tel.: 066 9150140
Email: info@dinglehub.com  
Web:   www.dinglehub.com
The Dingle Creativity and Innovation Hub is a Community Enterprise supported by Enterprise Ireland, the Dept of Rural and Community Development through the Town and Village Renewal Scheme, eir, Údarás na Gaeltachta, Kerry Co Co and the Dingle Chamber Alliance.