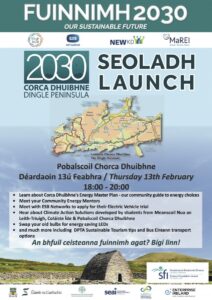 What's happening in the Hub?   
We're really looking forward to meeting all those who want to know more about energy initiatives on the Peninsula this Thursday, 13th February in Pobalscoil Chorca Dhuibhne from 18:00 – 20:00. Come join us for the launch of Corca Dhuibhne 2030 / Dingle Peninsula 2030. It is your opportunity to have your say and help plan for our sustainable future.  We'll be launching our brand new website where you will find useful local information on all things energy related www.corcadhuibhne2030.com
This event will be the first in a series of events, workshops and information sessions for 2020, all supported by Science Foundation Ireland (SFI) Discover funding. Fuinnimh 2030 will bring you information, tips and practical advice to help you make informed decisions about your energy future. The exciting line-up includes:
An introduction to your Community Energy Mentors. Since November, 10 members of the community have undertaken training to gain insights into energy efficiency, related technologies and funding mechanisms. They have met with experts in the various areas and are equipped to help find the answers to your questions. They are here to help so come and meet them and share your queries to help build our local pool of knowledge.

The launch of the Dingle Peninsula Energy Master plan. We know that we are using 310GWh each year on the Peninsula at a cost of €37M. The plan will help guide our collective energy choices to reduce our energy use to 224GWh with a saving of €8M and a 43% reduction in our energy related CO2 emissions.

Apply to be part of the ESB Networks Electric Vehicle (EV) trials, come and meet with them to discuss your application and bring it to the next stage.

Students from Meanscoil Nua an Leith-Triuigh, Coláiste Íde & Pobalscoil Chorca Dhuibhne worked on a Climate Hack last November and will showcase the ideas to tackle local challenges that emerged from this.

Another opportunity to swap your old incandescent bulbs for energy saving LEDs. Bring along your old bulbs and get up to four FREE bulbs per household!!

Green Energy Workshops run by PCD Coiste Timpeallacht – for our younger people to get hands-on with technology.

Speak to Dingle Peninsula Tourism Alliance (DPTA) to understand how your guesthouse or B&B can benefit from an energy efficiency review.

Bus Eireann will be on hand to discuss your public transport options. Let us know what you need to help build a service that works for the community.

Transition Kerry will join us to share their in-depth expertise in this area.

Come and speak with Comhar Chreidmheasa Chorca Dhuibhne to learn about green finance options.
The main goal of the Dingle Hub is to create viable and sustainable jobs on the Dingle Peninsula. This is achieved through organising workshops, events, projects, community engagement, etc. and supported by funding and grant assistance. We work in three main areas – Digital Transformation, Environmental Sustainability and Creative Industries. Come and have a chat if you have an idea for a project/event/workshop that would be beneficial to the community and contribute to job creation.  
If you're working from Dingle and are in need of office space, the Hub offers hot desks, dedicated desks and private offices with access to 1Gbps of eir Fibre Broadband, a dedicated telephone landline, free parking, 24-hour access and more.
Live in a Creative Place, Work in a Creative Space
Contact: Deirdre de Bhailís 
Dingle Creativity and Innovation Hub 
Tel.: 066 9150140
Email: info@dinglehub.com  
Web:   www.dinglehub.com

The Dingle Creativity and Innovation Hub is a Community Enterprise supported by Enterprise Ireland, the Dept of Rural and Community Development through the Town and Village Renewal Scheme, eir, Údarás na Gaeltachta, Kerry Co Co and the Dingle Chamber Alliance.