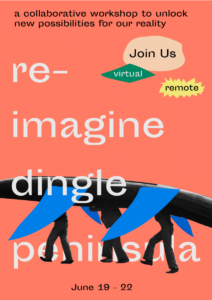 What's happening in the Hub?
We Need Imagination Now More Than Ever.
Dingle Creativity and Innovation Hub launches a
collaborative workshop
in an effort to imagine and shape new possibilities for the Dingle Peninsula. Creativity, Innovation, Resilience. 
A remote & virtual workshop to gather people interested and committed to explore new possibilities for the Dingle Peninsula. It's an opportunity to do better than just adapt or react to this new environment infused by recent uncertainty, but to start fostering how we might thrive by shaping it. 
We believe imagination — the capacity to create, evolve, and experience things or situations that don't yet exist — is the crucial factor in seizing and creating new opportunities, and finding new paths to growth.
What can emerge when people working in different sectors start collaborating and inventing hybrid solutions for their future together? What are the new, local, and fresh insights that the Dingle Peninsula could actually bring to this new accelerated digital transformation?
What?
It's a collaborative workshop experience where we will imagine alternative scenarios and infuse ideas for new concepts and inventions around topics relevant to the Peninsula: tourism, sustainability, energy, creativity, agriculture, entrepreneurship, culture among others. A series of creative exercises within a playful journey to spark innovation and suspend our disbelief about change. Community driven innovation. The result will later receive design direction and will be showcased.

The workshop is designed and facilitated by

www.imaginationofthings.com

.
When?
13:30 – 16:30 Friday 19 June: Creative Exercises & Work Session
Saturday 20 June & Sunday 21 June: Groups work independently and each one has a session with Imagination of Things for feedback & consultation. Each group can organize their time accordingly.
13:30 – 17:00 Monday 22 June: Building Concepts & Wrap-up
Total time commitment: Around 10h over 4 days.
Email info@dinglehub.com to join us and be part of re-imagining the change.
On another note, many people and companies are realising the benefits of remote working and it is most certainly going to feature largely in the way we work in the future. I'd like to draw your attention to one particular role that would be an exciting opportunity for the right candidate. www.growremote.ie are hiring a Grow Remote Manager and, as is their ethos, the role is fully remote so can be based anywhere in Ireland. If someone from the Dingle Peninsula were successful in their application, we'd love to welcome them to our Hub Community and could do so much to help support them in this role.
We are delighted to be working with Claire McElligott, ESB Networks and Catríona Fallon, Green Arts Initiative on the ESB Dingle Arts Commission with a fund total of €4,000 for the successful artist to create a piece of work. It's open to artists living on the Dingle Peninsula. The chosen art form and proposed project will speak to the brief and be accessible to the commissioning organisation (ESB Networks), the local community and the wider public. Audience engagement is a key element of the commission. Overall the work and final piece should encapsulate what the 'Activated Energy Citizen' of the future looks like on the Dingle Peninsula and beyond? It should relate to and emphasise the energy and sustainability work on the Dingle Peninsula with the ESB Dingle Project. Engagement with the projects to date and people involved is recommended to get a full picture of the scope. For more info see poster and full brief on our website www.dinglehub.com Deadline: Friday 19th June 2020
Stay safe and well everyone.
Live in a Creative Place, Work in a Creative Space
Contact: Deirdre de Bhailís 
Dingle Creativity and Innovation Hub 
Tel.: 066 9150140
Email: info@dinglehub.com 
Web:   www.dinglehub.com
The Dingle Creativity and Innovation Hub is a Community Enterprise supported by Enterprise Ireland, the Dept of Rural and Community Development through the Town and Village Renewal Scheme, eir, Údarás na Gaeltachta, Kerry Co Co and the Dingle Chamber Alliance.