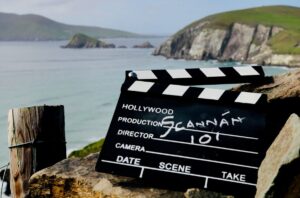 We're really excited to announce a new film course, Principles of Film: Theory & Practice, beginning 25th October, now open for registration. This 20-week intensive course for aspiring & amateur filmmakers will have access to new state of the art equipment, training in professional quality filmmaking and work placement/mentorship with Bang Bang Teo, in association with the Dingle Whiskey International Film Festival. 
When: Mondays & Thursdays 6-9p.m. 
Where: Dingle Hub
Facilitators: Ciara Barrett & Mark McLoughlin
Cost: €240
Register here
More information: film@dinglehub.com
Tá sceimtimíní orainn a fhógairt go mbeidh cúrsa scannánaíochta nua ag tosnú ar an 25ú Deireadh Fómhair 2021, is féidir clárú anois. Dianchúrsa 20 seachtain do dhéantóirí scannán uaillmhianacha & aimitéaracha ag baint usáid as treallamh den chineál is nua-aimseartha
Cúrsa ar chaighdeáin proifisiúnta atá ann. Beidh taithí oibre & meantóireacht ar fáil ó Bang Bang Teo, i gcomhar le Féile Scannán Idirnáisiúnta Dingle Whiskey.
Cathain: Luan & Déardaoin 6-9i.n.
Cén áit:  Dingle Hub
Áisitheoirí: Ciara Barrett & Mark McLoughlin
Costas: €240
Cláraigh: anseo
Tuilleadh eolais: film@dinglehub.com