What is the Creative Climate Action Project?
It is one of the newest projects being led by Dingle Hub, Corca Dhuibhne Inbhuanaithe, A Creative Imagining began at the end of 2021. It focuses on ways in which farmers across the Dingle Peninsula are adapting what they do in the face of climate change. Key to the project is Kerry artist Lisa Fingleton who is using art and creativity as a way to engage the farming community and spark innovative solutions to issues.
Is é aidhm an tionscadail ná aird a dhíriú ar na bealaí ina bhfuil feirmeoirí leithinis Chorca Dhuibhne ag dul i dtaithí ar na dúshláin a bhaineann leis an athrú aeráide. Is í ealaíontóir ó Chiarraí Lisa Fingleton a bhfuil ról lárnach aici sa tionscadal agus tá Lisa ag baint úsáid as cruthaitheacht agus as bealaí éagsúla chun dul i bhfeidhm ar lucht feirmeoireachta le haghaidh réitigh nuálacha a spreagadh. Is iad feirmeoirí an dream is mó atá ag plé go díreach le hathrú aeráide, ag déileáil le hadhaimsir, le luaineachtaí sa mhargadh agus leis an neamhchinnteacht ollmhór ó thaobh todhchaí na feirmeoireachta. 
Farmers really are at the coal face of climate change, dealing with extreme weather, market fluctuations and a huge amount of uncertainty about their future. This project aims to address those challenges while supporting farmers looking at their options.
Táimid ag súil go mbeidh an tionscadal seo cabhrach dóibh chun dul i ngleic leis na dúshláin seo agus ag an am céanna chun tacú leo agus iad i mbun machnamh a dhéanamh ar na roghanna atá acu. Thugamar cuireadh d'fheirmeoirí i mí na Nollag a bheith páirteach sa tionscadal agus bhí an-áthas orainn as an bhfreagra a fuaireamar ó gach cearn den leithinis. Ár mbuíochas chuig gach duine a rinne iarratas agus go háirithe ár mbuíochas don deichniúr feirmeoirí atá cláraithe anois agus iad ag tosú na dúshláin atá acu a roinnt leis an bhfoireann. Beimid féin ag roinnt na scéalta seo as seo amach.
December We invited farmers to get involved and we were thrilled to get a big response from all across the Peninsula. Thanks to all who applied and particularly the ten farms who signed up and have begun sharing their challenges with the team.  We will share more about these farms soon.
February Visits to the farms began and Lisa will continue these throughout 2022, getting familiar with their workings. Where possible, Lisa uses the TFI Local Link bus network to get around.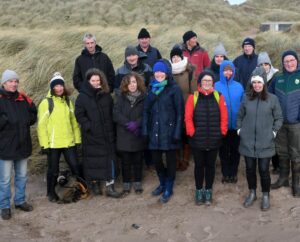 The project also includes a series of learning events and activities. First up was a visit to a Dexter cattle farm in Stradbally followed by an exploration of the work being done by the Maharees Conservation Association. Other visits lined up include Co. Clare's Burren Programme, who are tackling similar issues to farmers here.
We're looking forward to seeing how this innovative project develops and we're grateful for funding from the Creative Climate Action fund in partnership with the Green Arts Initiative in Ireland and MaREI (the Marine and Renewable Energy Institute). Find out more on www.dinglepeninsula2030.com – chun tuilleadh eolas a fháil
Anaerobic Digestion on Dingle Peninsula

As you may know, in recent years we commissioned a feasibility study on anaerobic digestion to explore the potential of turning materials like slurry, grass and food waste into biogas. The goal being to support the transition of the Peninsula to a low-carbon society. Biogas could contribute to meeting the community's energy needs in an affordable, secure and sustainable manner.
It's an example of a circular economy, where waste and resource use are minimised and instead become valuable resources.  As well as generating fuel, such a system would create new economic opportunities for our community. It's an exciting prospect even if we are at the early stages of exploring potential pathways for development here, including the possibility of using  biogas in local transport.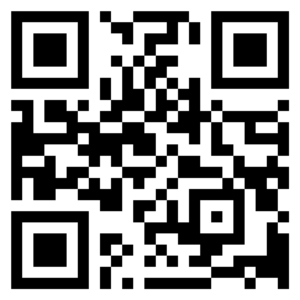 We are holding an online event on April 22nd (Starting 9.15AM-circa 11am) to get the latest thinking on anaerobic digestion from our research partners MaREI (The Marine and Renewable Energy Institute). All are welcome to view this online webinar and just need to pre-register. 
Use this link or try this handy QR code to register now. Here's how to use it:
Use the camera on your smartphone so that the whole set of blocks is visible on your screen

After a few seconds, you should be prompted to tap on a link which opens a webpage

Input your details on this Zoom webinar registration page and click Register
Dileá anaerobach ar Corca Dhuibhne
Mar is eol duit cheana féin, b'fhéidir, le blianta beaga anuas tá coimisiúnú déanta againn ar staidéar féidearthachta timpeall ar an díleá anaeróbach, ag féachaint ar a chumas chun ábhair leithéidí sciodair, féir agus fuíollach bia a athrú go bithghás. Is é an chuspóir anseo ná tacú le haistriú na leithinse go sochaí ar charbón íseal. D'fhéadfadh bithghás cuir leis an iarracht riachtanais fuinnimh an phobail a shásamh ar shlí atá inacmhainne, seasmhach agus inmharthanach. 
Is sampla é seo de ghéilleagar ciorclach, mar a ndéantar cur amú ábhair agus acmhainní a dhéanamh chomh híseal agus is féidir, agus in ionad sin go mbíonn siad ina n-acmhainní luachmhara iontu féin. Anuas ar bhreosla a ghiniúnt, d'fhéadfadh a leithéid de chóras deiseanna nua eacnamaíocha a chruthú d'ár bpobal. Is féidearthacht iontach é seo, fiú mura bhfuilimid ach ag tógaint na céad chéimeanna d'fhiosrú ar na bealaí a d'fhéafaí é seo a fhorbairt anseo, leis an bhféidearthacht ann go n-úsáidfí bithghás sa chóras iompair áitiúil.  
Táimid chun imeacht ar-líne a reachtáil roimh nóin ar an 22ú Aibreán chun an tuiscint is déanaí maidir leis an díleá anaeróbach a fháil ónár bpairtnéirí taighde MaREI (an Institiúid um Fhuinneamh Mara agus Inathnuaite). Beidh fáilte roimh chách é seo a fheiscint ar-líne agus ní ghá duit ach clárú roimh ré. Bain triail as an gcód QR áisiúil chun clárú anois. Mura n-oibríonn sé seo duit ná bí buartha, beimid ag foilsiú nascanna gréasáin ar ár suíomh gréasáin agus meáin shóisialta féin chomh maith.
Buaiteoirí an tsuirbhé / Hot Desk Winners
Ba mhaith linn buíochas a ghabháil leis na daoine a ghlac páirt sa suirbhé a rinneadh le gairid. Táimid chun úsáid a bhaint as an eolas chun feabhas a chur ar na bealaí a chuirtear gníomhaíochtaí Mhol an Daingin in iúl do dhaoine.
Mar bhuíochas a léiriú, chuireamar ainmneacha na rannpháirtithe i gcrannchur le haghaidh pacáiste sealaíocht deisce a bhuachan (luach €150 ar an duais). Piocfar go randamach na hainmneacha agus beidh na buaiteoirí in ann deasc a chur in áirithe ar feadh deich lá agus úsáid a bhaint as na háiseanna (uasghrádaithe le déanaí), san áireamh an leathanbhanda ardluais. Beidh na buaiteoirí in ann taitneamh a bhaint as an gcomhluadar sa Mhol agus as na deiseanna líonraithe atá ann mar chroílár den obair chomhionaid! Táimid ag súil fáilte a chur roimh na buaiteoirí anseo sa Mhol.
Thank you to everyone who filled in our recent survey. We're using the information gathered to help us better communicate Dingle Hub's activities.
As a thank you, we entered participants into a draw to win one of our hot desking packages, worth €150 each. The randomly selected winners can book in for 10 days and use our recently-upgraded facilities, with superfast broadband. They'll enjoy the social atmosphere and networking opportunities that are at the heart of co-working. We look forward to welcoming these winners to the Dingle Hub community:
James Gaffey, Co-Director of the Circular Bioeconomy Research Group at Munster Technological University,

Paddy Holahan, Business consultant 

Shane McMahon, a General Manager within the construction sector. 
Thanks also to Dingle Hub client Cian Ó Lorcáin, a Financial Crime Compliance Manager, who acted as the independent observer for the raffle draw.
Connect

Please contact us if you want to enquire about hiring a desk, meeting room or workspace. Email info@dinglehub.com or connect on social media.
Tá fáilte romhat dul i dteagmháil linn ar mheáin shósialta. Má tá ceist ar bith agat faoi úsáid na seomraí cruinnithe nó spáis oibre is féidir teagmháil a dhéanamh linn.