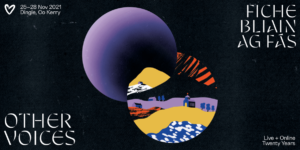 What's happening in the Hub?   
Hope you are all keeping well and cosy coming into Winter.

As per current government guidelines, we are open for clients who have no alternative workspace. You can contact us via 066-9150140 or email info@dinglehub.com
Other Voices Twenty & Ireland's Edge
Congrats to all involved in Other Voices Twenty – Fiche Bliain ag Fás which ran from 25-28 November. What a fantastic line-up and great to see hybrid events which enable viewers all around the world to tune in, as well as the lucky ticket holders to attend gigs in-person for this very special weekend. 
Particular note to Cogar, a gorgeous event/exhibition/performances curated by West Kerry based artist Áine Ní Chíobháin. The event featured artists Gerry Barry, Ferg Flannery, Deirdre McKenna and Emma Prendiville, pop-up acoustic sets & spoken word from Larry Beau, Colm Mac Gearailt, Niamh Varian Barry, Irish language rapper Súil Amháin, as well as from musicians Nicole Delaney & Kyle Macauley. 
The Cogar book (with work from Cogar 2019), a thing of beauty, is a collection of art, lyrics, raps and poems inspired by words and images from artists responding to the event, music, the area and more. Stories about music heroes, Corca Dhuibhne, a secret festival fairy, raps from the heart, and poems about the pilgrimage to Dingle were made specially for Letterpress. It's on sale via our lovely client Tor Cotton of Ponc Press and would make a fabulous Christmas present! 
Really interesting chats in Ireland's Edge line-up this year including those moderated by Muireann Kelliher, Chair of Dingle Hub board and Nuala O'Connor, one of our fab hub clients, who is founder of Ireland's Edge. What a fab series of thought-provoking talks centred around the theme 'Altered States / Idir Eatarthu'

Have you recently started working from here? Are you considering a part-time or permanent move to the Dingle Peninsula? Are you self-employed, remote working or a start-up business? Perhaps you are in a position within your business to bring remote working opportunities with you and build a team from here? We want to hear from you!! Please connect with us at info@dinglehub.com and help us build a vibrant, diverse and dynamic community and network. It's not necessary to need a physical desk or office space in the hub to be part of this wider community. We'd also love you to connect with us on social media platforms – Twitter, Instagram, LinkedIn, Facebook.
Live in a Creative Place, Work in a Creative Space
Contact: Deirdre de Bhailís/ Tom Fitzgerald/ Maggie Breen/ Nadine Schindler/Hazel Blennerhassett
Dingle Creativity and Innovation Hub 
Tel.: 066 9150140
Email: info@dinglehub.com  
Web:   www.dinglehub.com
The Dingle Creativity and Innovation Hub is a Community Enterprise supported by Enterprise Ireland, the Dept of Rural and Community Development through the Town and Village Renewal Scheme, eir, Údarás na Gaeltachta, Kerry Co Co and the Dingle Chamber Alliance.