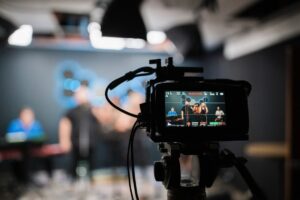 Engagement to Action – A Story of Innovation
Callout for Tenders – Filming Brief
Video Objectives:
To compile a record of various engagement activities that have taken place on the Dingle Peninsula to date as part of Corca Dhuibhne 2030 initiative through range of different projects 

To demonstrate how engagement process has led to action & innovation in different sectors through interviews with participants and stakeholders capturing their experiences & activities

To capture engaged research activities, learnings and outcomes, and the co-creation process 

To provide high quality video footage for potential future documentaries



Footage required:
Participant Interviews (approximately 10 community members and 6 stakeholders)

Electric cars and buses driving on the Peninsula

Sensor technologies on the farm, grass measurements data review 

Scenic drone footage (ideally incorporating rooftop solar)

Stock footage will be available for use
Locations:
Filming mainly on the Dingle Peninsula; footage from UCC/MaREI, Teagasc and ESBN should also be considered and included where appropriate. 
Proposed schedule: Filming dates: April / early May 2021
Video Edits: Agriculture focus edits complete by 23.05.2021/ Remaining edits complete by 18.06.2021
Editing
Existing Video footage is available for compilation

Data to be overlaid on images at appropriate points in the video 

3 x main edits will be required – max 3 mins each

6 x 30 second cuts for social media (2 per focus) 

2 x longer edits (approx. 8mins each) 

Subtitles with English / Irish translations to be included as necessary
Assessment Criteria and Scoring to be utilised in the assessment of the tenders:
The marks to be awarded (out of 100) are listed after each criterion.
Demonstrated range and depth of previous relevant experience and quality and level of resources to be applied to the project (25)




(Tenderers must score a minimum of 17 in this criterion in order to be eligible for contract award);

Demonstrated understanding of requirements; quality of tender in response to requirements; proposed approach, including creative / innovative interpretation of the requirements, proposed management, deliverables and measures for ensuring quality (35)




(Tenderers must score a minimum of 24 in this category in order to be eligible for contract award.)

Cost of the tender (40)




This should include the total costs (with and without VAT)
To apply send your proposal to Maggie Breen tenders@dinglehub.com no later than 15.00 Thurs 22nd April 2021